---

When will Venice and Italy reopen for travel?
---
Venice Cruise Terminal Hotels (2020)
Also see: Venice Cruise Terminals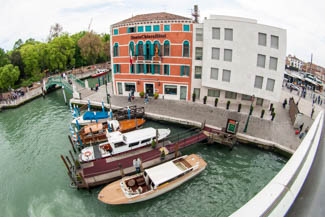 ABOVE: Are you cruising to or from the Marittima ship basin? The Hotel Santa Chiara may be your best choice, especially if you're traveling with bulky luggage. It's on the edge of the Piazzale Roma, with bridge- and step-free access to airport buses, taxis, and the inexpensive People Mover automated tram to Marittima.
BELOW: The yellow captions indicate hotel areas discussed in this article.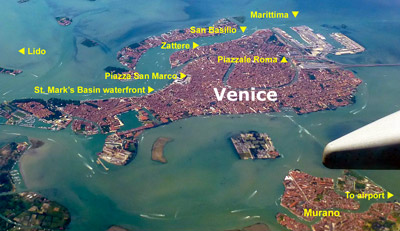 ---
If you're a cruise passenger and you're arriving or departing at the Venice Cruise Terminals (Terminal Venezia Passeggeri), staying at a hotel near the ship will save you money, huge amounts of hassle, or both.
Read our "No. 1 Warning!" article before making the mistake of booking a room in the wrong part of town. In a city with narrow, crowded pedestrian streets and more than 400 footbridges, you do not want to wrestle heavy luggage any farther than you absolutely must.
In looking for a hotel, you need to know which terminal your cruise ship will be using:
Large ships (such as Princess and Costa ships) invariably use the main Marittima basin, which has several terminals. Marittima is located just south of where the road bridge from the mainland enters the city. It's about a 15-minute walk, a 5-minute taxi or shuttle-bus ride, and an even quicker People Mover ride from the Piazzale Roma, the final destination for buses and taxis that enter Venice. If your ship is using the Marittima terminal, it's convenient to stay at a hotel near the Piazzale Roma.

Small to midsize ships up to about 50,000 tons (such as Silversea's Silver Spirit or Compagnie du Ponant's L'Austral) sometimes use the Marittima basin as well. However, such ships are often assigned to the San Basilio terminal. This is on the Giudecca Canal (right below a pedestrian promenade called the Zattere, which extends all the way up to a triangular point opposite St. Mark's Basin). The San Basilio terminal is also accessible by road from the Piazzale Roma, but you can reach it on foot from nearby hotels if you aren't burdened with heavy luggage. The San Basilio vaporetto stop is just a few steps away, over a wooden footbridge.

Very small ships nearly always arrive and depart at San Basilio or (in the case of river ships) Santa Marta, which is an extension of the San Basilio pier.
If you aren't sure where your ship will be moored, see the Ship Schedule at the Terminal Venezia Passeggeri Web site.
Where to stay in Venice's historic center
On the following pages, you'll find hotel suggestions for several areas of town:
Saving money on the mainland
Another possibility is to spend a night or two in Mestre, on the Venetian mainland. This is especially convenient if you're traveling with heavy luggage, since you won't need to walk far or cross bridges.
Hotels tend to be much cheaper in Mestre than in Venice, and if you stay directly across from the Mestre Railroad Station (which is served by Mestre airport buses and has a baggage room), you can reach the city center by train in less than 15 minutes. From the Venice train station, you can walk across the Calatrava Bridge to the Piazzale Roma. (See our Getting to Your Ship article for advice on what to do after you've reached the Piazzale Roma.)
If your luggage is bulky or heavy, consider taking a land taxi to your ship. The fare between downtown Mestre and either the Marittima or San Basilio cruise terminal shouldn't be more than €30-40. For more information, see:
Another possibility: the Hilton Molino Stucky
Well-heeled cruise passengers often stay at the Hilton Molino Stucky, which is located on the island of Giudecca. The hotel occupies part of a restored flour mill from the late 19th Century.
The Hilton Molino Stucky's location isn't especially convenient to Venice's main sights (you'll need to take the free shuttle boat from the hotel to the Piazza San Marco, for example), but an Alilaguna airport boat does offer service between the hotel and the main Marittima cruise terminal, and you can take a vaporetto to the San Basilio pier.
Please note:
Many of the links in this article will take you to pages at Venere and Booking.com, our two discount booking partners. (We've used both services in our own travels with good results.)

If you've already made a hotel booking, check the hotel's location. You may find it worthwhile to cancel your reservation and book at a hotel that's more convenient to the cruise port. (If you've prepaid for a hotel in a bad location, we can't do anything to ease your pain, but our Venice Transportation articles may help you to make the best of a bad situation.)
Next page: Hotels near Piazzale Roma (for Marittima piers)
---
---
---
---

| Europe for Visitors - Home |
| Contact information, disclosures, audience |

Copyright © 1996-2020 Durant and Cheryl Imboden. All rights reserved.