---

---
Venice Cruise Terminals
Page 2
Continued from Page 1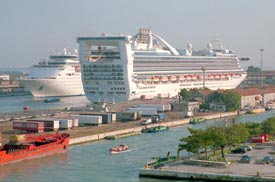 ABOVE: The Silver Whisper (left) and Golden Princess are moored at Marittima. (This view is from the Giudecca Canal near the San Basilio quay.)
Also see: Hotels near Marittima (Piazzale Roma)
Marittima Basin
Marittima is the largest of the ship basins at the Port of Venice's Venezia Terminal Passeggeri, with two terminal buildings and enough docking space to handle several large ships at once. It's within walking distance of the Piazzale Roma, the main car, taxi, and bus gateway to the historic center. Here's how to reach Marittima:
From the airport:
Marittima is a 15- or 20-minute cab ride from Venice's Marco Polo Airport. The fare is likely to be in the €30-40 range.
Other options include an airport bus to the Piazzale Roma, followed by a taxi or bus ride (see below), or a water taxi, which takes about an hour from the airport but offers a scenic ride. (Water taxis are very expensive--figure €100 or more, depending on how many people and suitcases are on board--but the cost becomes more reasonable if it's split among half a dozen passengers.)
From the Piazzale Roma:
Marittima is only a couple of minutes from the Piazzale Roma by taxi. A free shuttle bus normally runs on Saturdays, Sundays, and Mondays during the cruise season.
Alternatively, take the new Venice People Mover from the Piazzale Roma, which will drop you off at the entrance to the Marittima ship basin.
You can walk to Marittima from the Piazzale Roma in 10 to 15 minutes. Just follow the road that leads to the causeway and turn left at the port entrance after you cross the railroad tracks.
From the parking island of Tronchetto:
Take a taxi (if you can find one), ride the quick and inexpensive Venice People Mover one stop to the Marittima ship basin, or--less conveniently--catch the ACTV's 6/ public-transit bus (see above).
From the Piazza San Marco:
The Alilaguna airport boat's Linea Blu ("Blue Line") continues from to Marittima from San Marco during the cruise season. The trip takes 22 minutes.
Alternatively, you can take a water bus to the Piazzale Roma and proceed from there by taxi, bus, or on foot if you aren't traveling with too much luggage. The No. 2 express boat is quickest; the No. 1 vaporetto down the Grand Canal is handy if you've been staying near one of the intermediate stops. See our vaporetto routes article for more information.
Cruise lines sometimes provide free shuttle boats between Marittima and San Marco, either at the beginning and end of a cruise or during port calls in Venice. Ask your cruise line if a shuttle is available.
Next page: San Basilio pier
---
---
---

---
---

| Europe for Visitors - Home |
| Contact information, disclosures, audience |

Copyright © 1996-2018 Durant and Cheryl Imboden. All rights reserved.