---

---
Venice Cruise Terminals
Port of Venice
---
Cruise transfers by private water taxi
Our excursions partner, Viator, offers departure transfers from Venice hotels to the Marittima or San Basilio cruise piers by private water taxi. Arrival transfers are also available. (Select the flag icon at the top of Viator's page for prices in four different currencies.)
---
Venice is one of the busiest cruise ports in the Mediterranean, with nearly 500 ship departures and 700,000 cruise passengers per year.
Technically, however, Venice isn't on the Mediterranean at all, or even on the sea:
The city and its cruise-ship piers are inside the Venetian Lagoon, which is connected to the Adriatic Sea by a narrow entrance called the Porto di Lido.
The Terminal Venezia Passeggeri or Venice Cruise Terminal is located near the 4-km causeway that links the historic city with the mainland.
It consists of two main areas: the Marittima basin, which can handle the largest ships that call in Venice, and the San Basilio pier, which is just around the corner in the Giudecca Canal.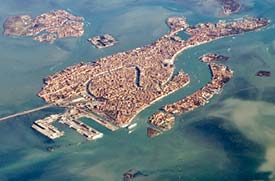 ABOVE: The U-shaped Marittima cruise basin is at the western end of the city, next to the Tronchetto parking island and the causeway to the mainland. San Basilio is behind the white ship just to the right of Marittima.
If you're departing from Venice and haven't arranged transfers through the cruise line, you'll need to know where your ship is moored. You can obtain this information from the English-language ship and ferry schedules at the Terminal Venezia Passeggeri Web site. (See links on page 4.)
Once you've identified the basin where your ship will be berthed, see our Marittima or San Basilio page for information on how to reach the ship by free shuttle bus, by taxi, or by other means.
Please note:
Embarkation arrangements can vary according to your cruise line, where the ship is berthed, whether you're handling your own transfers, and when you arrive at the port. Check with your cruise line ahead of time if you're uncertain about the embarkation procedure.

The cruise terminals do have left-luggage (baggage storage) offices. When we last checked, hours were 9 a.m. to noon and 3-5 p.m., but opening hours are likely to vary by season or even by day, so check ahead with the port (see links on page 4) if you absolutely need to store and retrieve your luggage on a certain day.

If you want to store baggage in the city before going to the cruise terminal, look for the deposito bagagli, or left-luggage office, in the Piazzale Roma opposite the ACTV ticket office (next to the Pullman Bar). Alternatively, you can try the deposito bagagli office in the Venice Marco Polo Airport arrivals hall or in the Venice Santa Lucia Railroad Station. See our Venice Left Luggage article for more details.

Important: We can't vouch for the hours of deposito bagagli offices on any given day. If knowing this information is critical, you'll need to check with the offices themselves ahead of time.
Next page: Marittima basin
---
---
---

---
---

| Europe for Visitors - Home |
| Contact information, disclosures, audience |

Copyright © 1996-2018 Durant and Cheryl Imboden. All rights reserved.