---

When will Venice and Italy reopen for travel?
---
Venice Islands Tour
Page 8
Continued from Page 7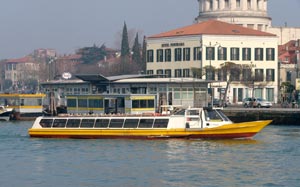 ABOVE: A tour boat passes in front of the Lido's main Actv station. Get off here to explore the Lido's shopping, restaurants, and beaches.
Lido
The Lido di Venezia is a long, narrow island that acts as a barrier between the Venetian Lagoon and the sea.
Much of the island is taken up by 19th and 20th Century villas, some of which have been converted to hotels. Well-groomed beaches cater to summer holiday crowds and guests of luxury hotels on the side that faces the Adriatic.
(Motor vehicles are permitted on the Lido, which is served by a car ferry.)
When you arrive at the Lido's ACTV station, cross the street carefully and continue into the main shopping area. Here, you'll find a small department store, boutiques, cafés with gelato counters, and restaurants. The business district feels lively and prosperous, thanks to tourists in the summer and a year-round population of suburban commuters.
Keep walking down the main shopping street, the Gran Viale S.M. Elisabetta. In a few minutes you'll reach the promenade on the Adriatic side of the island.
To your right are the Hotel des Bains (the setting of Thomas Mann's Death in Venice), the neo-Moorish Hotel Excelsior, and the Palazzo del Cinema (used by the Venice International Film Festival). To your left are the Bagni Communale, or public beach with bathhouses for day visitors and residents.
Walk along the beaches in either direction, and wander out on one of the massive stone jetties that help to protect the beaches from erosion.
How to reach the Lido:
See the Return options page for information on boat service to the Lido from Burano.
If you prefer to visit the Lido directly from Venice, you have a number of choices--including the No. 1 vaporetto, the 5.1/5.2 and 6 circolare routes, the double-deck boats that depart from a pier near San Marco, and the 17 car ferry from the Tronchetto parking island. See our Venice Vaporetto Routes article for more information.
Also see: Lido di Venezia Travel Guide
Next page: Lido to Venice
---
---
---
---

| Europe for Visitors - Home |
| Contact information, disclosures, audience |

Copyright © 1996-2020 Durant and Cheryl Imboden. All rights reserved.