---

When will Venice and Italy reopen for travel?
---
Venice Islands Tour
Page 10
Continued from Page 9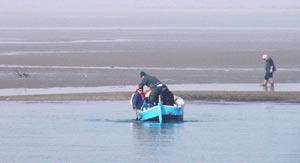 ABOVE: Clammers hunt for shellfish on the tidal flats of the Venetian Lagoon. (This photo was taken from the boat between P. Sabbioni and the Lido.)
Related articles
Public transportation
Vaporetto Water Buses
Learn the basics of riding Venice's vaporetto, motoscafo, and motonave boats.
Vaporetto Routes
Venice's waterbus system is more Byzantine than St. Mark's Cathedral. This article and route table will make the vaporetti and motoscafi network less confusing.
Venice Vaporetto and Bus Fares
Single-trip boat fares are outrageous, but you can save money with a 12-hour to 7-day tourist travel card.
Sightseeing in the Venetian Lagoon
The Venetian Lagoon
Venice isn't just palaces, churches, and art museums. The city sits in the middle of a lagoon that is rich in wildlife and tradition.
Murano, the Glass Island
In 1296, the glassblowers of Venice moved to an island called Murano. Seven hundred years later, their descendants are still turning sand into gold. (Our 11-page Murano guide is optimized for smartphones.)
To Die in Venice
When you gotta go, you gotta go--and dead Venetians have been going to the island cemetery of San Michele for nearly 200 years.
San Lazzaro degli Armeni
35 monks, seminarians, and Armenian students live on a monastery island that once served as a leper colony.
Venice to Chioggia
Chioggia, a busy fishing port at the southern tip of the Venetian lagoon, is an hour and a half from Venice by bus and ferry.
Back to: Venice Islands Tour - Introduction
---
---
---
---

| Europe for Visitors - Home |
| Contact information, disclosures, audience |

Copyright © 1996-2020 Durant and Cheryl Imboden. All rights reserved.