---
Frequently Asked Questions (FAQ)
From: Venice Railroad Station

ABOVE: The station's lavatories have been modernized to include toilets for disabled travelers.
"Does the station have facilities for disabled travelers?"
Like other major stations in the Italian railway network, Venezia Santa Lucia has a center that helps passengers with disabilities.
Railroad personnel can meet you at the train (with a wheelchair, if needed), escort you to a departing train, sell railway tickets, etc. For more information, see Trenitalia's Assistance to persons with disabilities or reduced mobility page.
How to bypass the station steps
Santa Lucia Station has no stairs within the station (everything is on one level), but the stairs leading from the front entrance to the public throughfare and the Grand Canal can be a nuisance if you're in a wheelchair, pushing a baby stroller, or wrestling with heavy wheeled luggage.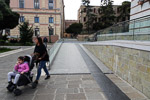 Fortunately, the station has two ramps: one to the right of the main steps as you leave the station (photo on left), and a gently sloping stretch of pavement down to the water from a side door to the left of Track 1.

The side door is located in the train shed, on the left side as you leave the platforms.

See our illustrated step-by-step directions.

Tip:
For information about getting around town if you're physically challenged, read our Accessible Venice article. Also see Accessible Venice Hotels if you need a place to stay.
Next page: FAQ: Police, lost-and-found
---
---
---
---
---

| Europe for Visitors - Home |
| E-mail, disclosures, audience |
Copyright © 1996-2020 Durant & Cheryl Imboden.
All rights reserved.