---

---
Venice Railroad Station Hotels
Page 2
Continued from page 1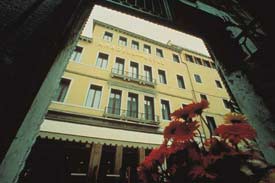 ABOVE: The Hotel Amadeus is just a short walk from Santa Lucia Station.
Hotels near the station (3- and 4-star)

Hotel Amadeus (4 stars)
The Amadeus is directly on the Lista di Spagna, about five minutes from the railroad station. The building is fully air-conditioned and wheelchair-accessible, with an elevator for guests in its single, double, and triple rooms. Rates include an American buffet breakfast.
Hotel Boscolo Bellini (4 stars)
This hotel, a member of Italy's Boscolo group, occupies an 18th Century building on the Lista di Spagna. During summer, the complimentary buffet breakfast is served in the hotel garden.
Hotel Principe (4 stars)
The Principe is one of the more upscale hotels near the station; it's in a 15th Century palace on the Lista di Spagna. If you're feeling flush, splurge on a room overlooking the Grand Canal.


Hotel Abbazia (3 stars)
Some rooms in this converted monastery overlook the garden where breakfast is served in the summer. The hotel is in a side street, very close to the railway station. Rooms include doubles, triples, and quads. (Don't be startled by the pulpit on a wall of the lobby: In centuries past, when the lobby was the cloister's refectory, monks read scripture from the pulpit during meals .)
Hotel Il Mercante di Venezia (3 stars)
The "Merchant of Venice" is just off the Lista di Spagna in the Calle della Misericordia. Singles, doubles, and triples are available, and rates are a bargain during low season.
La Locanda di Orsaria (3 stars)
Singles, doubles, triples and quads are on tap at this locanda, or inn, which is in a 16th Century building in a side street near the Lista di Spagna.
Hotel Hesperia (3 stars)
The highly-rated Hesperia is at the end of the Lista di Spagna and around the corner, on a fondamenta overlooking the Cannaregio Canal. Check lowest rates, reviews, and availability:
Next page: Hotels near the station (1- and 2-star)
---
---
---
---

---
---

| Europe for Visitors - Home |
| Contact information, disclosures, audience |

Copyright © 1996-2017 Durant and Cheryl Imboden. All rights reserved.