---
Side door (wheelchairs, strollers, wheeled luggage)
From: Venice Railroad Station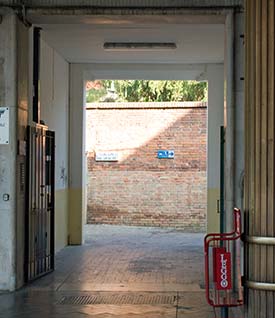 1 The side door is on the left side of Venice Santa Lucia Station's train shed as you're coming from the platforms.
When you go through the archway (above), you'll see a blue sign on the brick wall. The sign has baggage and wheelchair icons, and an arrow shows the way to the Grand Canal.
---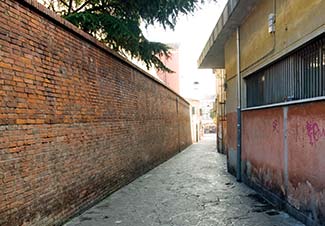 2 A gently sloping, relatively smooth stone path leads past the station building (right) toward the Grand Canal.
---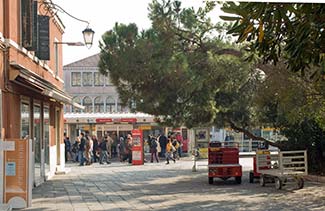 3 The bottom of the path widens out into a small square, with a bookstore to your left and the ACTV vaporetto ticket office straight ahead. (Most water buses are wheelchair-accessible; for more information, see our Vaporetto Routes and Accessible Venice articles.)
Note: Santa Lucia now has a ramp in front as well: It's to the right of the stone steps as you leave the station by the front entrance. We prefer the side exit, however, because it saves having to fight your way through crowds in the station hall.
---
---
---
---
---

| Europe for Visitors - Home |
| E-mail, disclosures, audience |
Copyright © 1996-2020 Durant & Cheryl Imboden.
All rights reserved.