Royal Botanical Garden of Madrid
Real Jardín Botánico de Madrid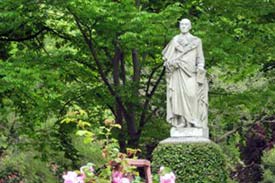 ABOVE: A statue in the Real Jardín Botánico.

One of the clear benefits of visiting Madrid is the weather. While the old saying might be "nine months of winter, three months of hell," many tourists will find Madrid's climate quite welcoming for most of the year. The so-called Madrileño "winter" doesn't compare to the wet, grey slog endured by most other Europeans or many North Americans for a sizable chunk of the year.
While studying in Europe for nine months, I had the pleasure of visiting my girlfriend in Madrid half a dozen times from October to May--and even in the depths of winter, I was able to enjoy one of my favorite discoveries in Madrid:

The Real Jardín Botánico, or the Royal Botanical Garden, was founded in 1755 by King Ferdinand VI. Spread over 20 acres next to the world-famous Prado Museum, the Garden is divided into three subsections and two greenhouses.
The different areas of the Garden range from the aesthetic and aromatic to the primarily educational. The greenhouses (divided into tropical, sub-tropical, and desert environments) are fascinating, with their range of flora found natively everywhere from Laos to Louisiana--as well as Spain.

The Real Jardín Botánico is worth a visit for anyone. While visiting one warm and sunny May afternoon, I saw a group of kindergartners with their teacher, elderly Spaniards, tourists of every background, and more than a few young couples (besides me and my companion). There's something for everyone here, from roses to Venus Flytraps. That particular American export was not the only carnivore, however--one surprising find was a small sparrow attempting to devour a butterfly (which somehow escaped intact).
All of this nature comes conveniently located in the heart of Madrid, immediately neighboring the Prado Museum and within easy walking distance of Retiro Park, the Reina Sofia museum, and Atocha train station. The admission fee is modest, so there's really no excuse for missing this oasis of sanity in the midst of the urban hustle and bustle.

Directions: Getting to the Royal Botanical Garden is simple. Just take Metro line 1 to Atocha station and walk up the Paseo del Prado until you see the entrance to your right (on the Plaza de Murillo).
Hours: The Royal Botanical Garden is open daily from 10:00 a.m. until between 6:00 and 9:00 p.m. depending on the time of year, except for Christmas and New Year's Day. For current hours and other information, visit official Royal Botanical Garden Web site.