Louis Cruise Lines
From: European Cruise Guide
---
---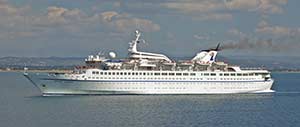 ABOVE: The Orient Queen arrives in the harbor of Katakolon, Greece.
Louis Cruise Lines is a Cyprus-based company that owns a fleet of seven cruise ships, including some that are chartered to other lines. The company's ships and itineraries have a loyal European audience but are virtually unknown to travelers from other continents.
The company's 2014 cruise calendar was incomplete when we updated this page in September, 2013. At last report, Louis was planning a variety of three- to seven-day cruises from ports in Greece and Turkey, with two ships in service: the 1,664-passenger Louis Olimpia and the 1,200-passenger Louis Cristal. For more up-to-date information, click the link below.
Cruise line's Web site:
---
---