About Europe for Visitors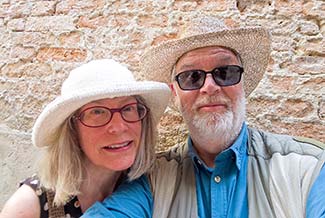 ABOVE: Cheryl and Durant Imboden, publishers of Europeforvisitors.com, mug for a self-portrait in Venice, Italy.
---
---
Mini-biographies: Durant Imboden · Cheryl Imboden
---
Quick stats and facts:
Average yearly circulation of 3.5 million visits from more than 200 countries. (See Audience: Traffic and Demographics.)
Five-year traffic: 17.6 million visits and 64+ million editorial page views, mostly on "evergreen" destination articles and cruise reviews.
More than 6,000 pages of editorial content about European travel.
Our audience consists of readers who are deciding where to go and how to spend their money in Europe.
We're one of the few non-corporate publishers that are represented by Travora Media (the travel industry's leading vertical ad network, which also represents Lonely Planet, Rough Guides, Rand McNally, and other big-name travel publishers).
---

Our travel Web sites began as The Baby Boomer's Venice in early 1996, followed by Venice for Visitors and Switzerland for Visitors when The Mining Co. (later to become About.com) was launched in 1997. These topics soon expanded into Europe for Visitors and Switzerland/Austria for Visitors, and one of us (Durant Imboden) also found time to write a guidebook, Buying Travel Services on the Internet, for McGraw-Hill.

Our relationship with About.com ended in fall, 2001. Since then, we've acquired our own domains and placed our copyrighted material on six tightly integrated sites: Europe for Visitors, Venice for Visitors, Paris for Visitors, Rome for Visitors, Switzerland and Austria for Visitors, and Europe for Cruisers.
These editorial "content sites" provide more than 6,000 pages of original articles, annotated links to other Web sites, and additional travel-planning resources that are specifically geared to European travel and cruising--primarily in Western and Atlantic Europe, which are the areas of Europe that we know best.
To serve our readers, we travel extensively and have an annual travel budget in the five figures. We also work closely with European tourist offices and other organizations to deliver in-depth coverage of destinations, cruises, and other travel experiences in Europe.
More information:
Contact Us
We're happy to discuss editorial issues by e-mail.
Press Clippings
See what Forbes, The Washington Post, Time, PC World, USA Today, The New York Times, and other publications have written about us.
Advertising
Promote your business or destination with display ads or keyword-targeted text ads.
PR Opportunities
Here's what PR professionals need to know about reaching our travel audience. (Also see our travel vendor and reader testimonials.)
Europe for Visitors Blog
Our EFVblog offers European travel news, views, and tips. If you're headed for Venice, see our Venice Travel Blog and Maggie in Venice dog blog.
Privacy Policy
In a nutshell: We don't know who you are unless you e-mail us, and if we do know, we won't share that information with anyone else.
Booking Partners
Hotels, car rentals and leases, sightseeing tours, etc.
Other Disclosures
A few words about press trips and review products.
Organizational affiliation

Society of American Travel Writers
Durant Imboden belongs to the Editors Council of SATW, an organization for U.S. and Canadian travel writers and photographers.
Personal plugs
Maggie: A Beardie Rescue Dog
Learn about Maggie, an adopted Bearded Collie, and how you can save a dog through a canine rescue organization or--if necessary--give your own dog up for adoption. Also see our Maggie in Venice dog blog.
Travelwritten.com
Durant Imboden edits this Web site and blog, which is subtitled "A travel writer's guide to self-publishing on the Web."
Uptown Minneapolis
OK, it isn't about Europe, but can't a proud mama and papa plug their son and daughter's first book? Also see Thatcher Imboden's OurUptown.com and Cedar Imboden Phillips's Minnesota State Flair blog.
"Best of the Web"
- Forbes and The Washington Post
---
Our most popular topics:
---
---

Need a car in Europe?
Auto Europe guarantees the lowest rental rates for standard cars, sports cars, SUVs, luxury cars, chauffered sedans, and RVs. Its Web site also has driving information for 38 countries.
If you live outside the EU, a tax-free Renault or Peugeot tourist lease can be cheaper than renting. Minimum driver age is 18, there' s no upper age limit, and rates include insurance. See: Short-term car leasing.
---

Traveling by train?
Rail Europe
has schedules, maps, and guides for 50+ European railroads. (Residents of North and Central America can buy tickets and rail passes online.)
---
From Europe for Cruisers:
---
Travel and cruise news: