Bayerische Staatsoper
Bavarian State Opera, Munich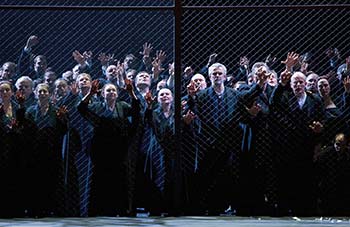 ABOVE: Hebrew prisoners in the Bavarian State Opera's 2008 production of Giuseppe Verdi's Nabucco.
---
Bavarian State Opera
Learn about the company, which was founded in 1653 and offers a year-round program of operas, concerts, ballets, and music festivals.
Nationaltheater
Take a guided tour through the opera house, with visits to the auditorium, backstage areas, and a dressing room.
Munich Opera Festival
Celebrate Munich's 850th birthday by attending the Münchner Opernfestspiele (which includes a number of free events) in July.
Nabucco
This new production of Giuseppe Verdi's breakout opera premiered in January, 2008.
---
Top photo copyright © Wilfried Hösl.
1st, 3rd, and 4th inset photos copyright © Wilfried Hösl.
---
"Best of the Web"
- Forbes and The Washington Post
---
Advertisement:
---

Need a hotel in Munich?
Booking.com offers guaranteed lowest available rates at more than 33,000 hotels, guesthouses, and hostels in Germany--including 300+ in Munich.

Compare Munich hotels and rates