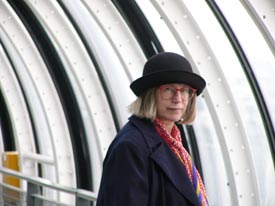 Cheryl Imboden first traveled to Switzerland and Austria as a child living in Germany. She later lived in Austria with her husband, Durant Imboden of Europe for Visitors, and she has continued to visit both countries over the years.
Her Switzerland for Visitors site opened on About.com in April, 1997, and later expanded into Switzerland & Austria for Visitors. Since October, 2001, the site--which now has more than 500 pages of editorial content for travelers--has been hosted independently at switzerlandforvisitors.com and austriaforvisitors.com.
Cheryl is also co-owner of our subsidiary sites, Venice for Visitors, Paris for Visitors, and Europe for Cruisers. Her photos and videos appear in our Venice Travel Blog and our Maggie in Venice dog blog.
To e-mail Cheryl Imboden, see our Contact Us page.