Canal-Boat Rentals in Europe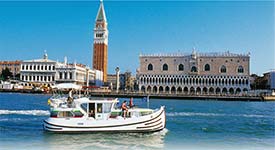 ABOVE: A self-drive Penichette from European Boating Holidays cruises past the San Marco waterfront in Venice, Italy.
Self-drive boats
Black Prince Holidays Ltd.
Choose from narrowboats of four different sizes, which are available at eight canal bases in England, Scotland, and Wales. If you aren't sure what's involved in being a DIY canal-boat captain, read The Boater's Handbook (PDF format), which was produced by British Waterways and the UK's Environment Agency.
Locaboat Holidays
This firm has nearly 400 traditionally-styled "Penichettes" at more than two dozen European locations.
Drifters Boating Holidays
Drifters, a UK-based company, represents a number of British operators. Its "check availability" tool lets you search for narrowboats, day boats, etc. on the waterway of your choice.
FPP Travel
France Plassion Plaisance has 31 departure bases in France, Belgium, Germany, Italy, Spain, and the Czech Republic. License-free, self-drive boats come in a variety of sizes, and "Handy" boats are available for wheelchair users.
Latelink Boating Holidays
This UK firm offers last-minute deals on self-drive boat rentals in Britain, Ireland, and France.
Le Boat
This company's self-drive barges sleep 2 to 10 passengers and can be rented in France, the British Isles, Ireland, Germany, and the Netherlands.