Europe > Spain > Madrid > Chamberí Metro station > Visitor information
Madrid Metro: Andén Cero, Estación de Chamberí
Page 2
Continued from page 1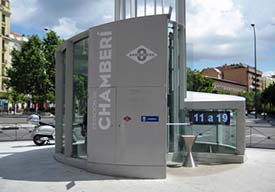 ABOVE: The entrance to Andén Cero is above ground on the Plaza de Chamberí.
Practical information
Getting to Andén Cero/Estación de Chamberí
The best way to get to the station is by Metro, appropriately enough. The museum is within five minutes of stops Bilbao and Iglesia, both on line 1.
From the Bilbao Metro station, walk uphill on Calle de Luchana.
From the Iglesia Metro station, walk south on Calle de Santa Engracia.
The modern entrance to the museum is easy to find on the Plaza de Chamberí. (See photo at top of page.)

Opening Hours
Thursday: 10 a.m. - 1 p.m.
Friday: 11 a.m. - 7 p.m.
Saturday and Sunday: 11 a.m. - p.m.
Closed: Christmas and New Year's Day
Admission
Entry is free for everyone.
Web Links
Metro Madrid
The Metro de Madrid Web site has information in English about the city's underground transit network. It includes a section about Andén Cero.
Next page: More photos
---
---