Europe > Spain > Madrid > Holiday rentals
Vacation Rentals in Madrid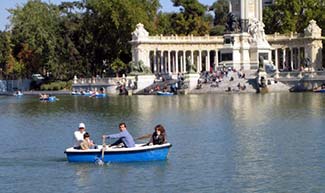 ABOVE: Madrid's Retiro Park is close to the city center, in a residential district that's perfect for a vacation stay..
In Madrid, as in other cities, a vacation rental (a.k.a. "holiday let") can be a practical alternative to a hotel for several reasons:
Value. A rental apartment, room, or cottage usually has more space than a hotel room, and the price is often lower for the same level of comfort and luxury. The only trade-off is a lack of services, although apartment hotels and serviced apartments can help to bridge the gap between a traditional hotel and a temporary home away from home.

Savings on restaurant meals. If you're staying in an apartment with a kitchen (or even a private room with kitchen privileges), you can eat at least some of your meals at home. The savings can add up quickly, especially if you're traveling with a family.

Living like a local. Sure, we're all tourists when we travel, but it's nice to at least feel like temporary natives in the cities that we're visiting. When you stay in an apartment or other private rental, you'll be part of the neighborhood (especially when you take advantage of its supermarkets, bakeries, and other shops).
In Madrid, two companies have especially good selections of rental properties. Both are our affiliate partners, which means that we get a small commission on the rental fee:
Booking.com: Madrid vacation rentals our partner
Europe's no. 1 secure reservations service is best known for hotels, but it also has a large portfolio of rental properties in and around Madrid--including apartment hotels and serviced apartments.

Airbnb: Madrid our partner
The world's largest vacation-rental platform has a good selection of rentals in the Spanish capital, with an emphasis on privately-owned apartments, studios, rooms, and even a house or two.
Tip: When comparing prices between Booking.com and Airbnb listings (or even between individual properties), be sure to compare total costs including any service or cleaning fees.