Salzburg Sound of Music Tours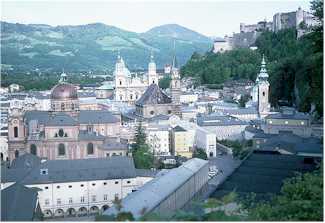 ABOVE: Salzburg's Altstadt, or Old Town.
It's been 40 years since the movie was released, but The Sound of Music is still packing in the crowds--not in movie theatres, but in the sightseeing buses, vans, and limousines that haul tourists to locations around Salzburg, Austria that were used in Robert Wise's film version of the Rogers and Hammerstein musical.
A number of local sightseeing companies offer "Sound of Music Tours," which normally last half a day. Typical stops along the way include the Mirabell Gardens ("Do-Re-Mi"), Schloss Hellbrun (site of the "I Am Sixteen Going on Seventeen" gazebo), Leopoldskron Castle (used as the von Trapp family's home in the movie), Nonnberg Abbey (where Maria did her stint as a nun in training), St. Gilgen (not in the movie, but let's not be picky), and the "Wedding Church" in Mondsee, where Maria and Georg Von Trapp were married.
As the guides will tell you, most of the movie was filmed in Hollywood, so the "locations" on the tour have more to do with the von Trapps' real life than with the film itself. To make matters more confusing, some of the things that happened in the movie didn't happen in real life. (Example: The von Trapps didn't escape over the mountains to Switzerland, since Switzerland was--and remains--a good 100 miles to the west of Salzburg.)
Is the tour worth taking? If you're a Sound of Music fan and have an appreciation for kitsch, you'll probably enjoy yourself--but if you dislike guided sightseeing or are on a budget, you'll be better off skipping the tour and seeing the major Sound of Music "locations" (those that interest you, at any rate) on your own.
Tours and related information
---
Salzburg Sound of Music Tours:
Introduction
Web links
---