"SWISS CHRISTMAS MARKETS" Page 1, 2, 3, 4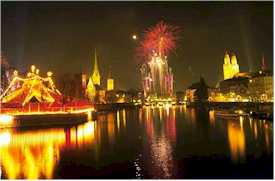 ABOVE: If you don't get to Zürich in time for the Christmas markets, stick around for the fireworks on New Year's Eve. (SNTO
Christmas in Austria
Salzburg at Christmas austriaforvisitors.com
Shop the Christmas markets, enjoy the Advent singing, and visit two Silent Night, Holy Night museums.
Wiener Adventzauber
Vienna's Christmas market is open daily from mid-November through December 24. (The Adventzauber Web site also has information on other holiday festivities.)
---
---
Photo: Copyright © Switzerland Tourism. All rights reserved.