Photo Gallery:
Zermatt (Skiing)
Switzerland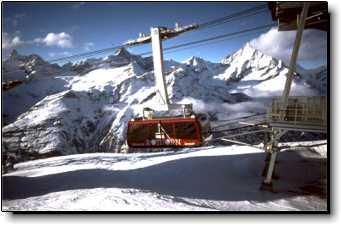 Rothorn: One of the Zermatter Rothornbahn's two gondolas enters the summit station. (The aerial cable cars are counterbalanced, so that one arrives at the summit as the other reaches the station 1150 meters below.) You needn't be a skier to ride on the lift in winter, although you may get a few curious looks if--like the photographer--you're wearing street clothes and a beret.
Also see: Index of Zermatt and Riffelalp articles and photo galleries.
Photo copyright © Durant Imboden, Europe for Visitors.
Used by permission. All rights reserved.