A-ROSA River Cruises
From: European Cruise Guide
---
---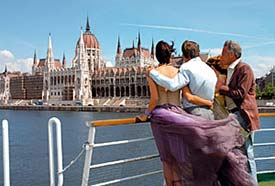 ABOVE: An A-ROSA ship arrives in Budapest. INSET BELOW: A cruise on the Rhône, and a cabin on a Danube ship.

A-ROSA River Cruises is a German operator that offers cruises on the Danube, on the Rhône and Saône in Southern France, and on the Rhine/Main and Moselle rivers in Germany. The line serves both German- and English-speaking passengers.

A-ROSA has five luxury vessels for English-speaking guests with capacities of 186 to 242 passengers (Rhine and Danube) or 174 passengers (Rhône/Saône). Amenities include outdoor swimming pools, shuffleboard, and putting greens.
A-ROSA normally offers a variety of itineraries, ranging from three- or four-night mini-cruises to voyages of nine nights. Pre- and post-cruise packages are also available. For offerings in 2015, check the A-ROSA Web site at the link below.
Cruise line's Web site:
---
---
Photos copyright © A-ROSA Reisen. Used by permission.