Compagnie du Ponant
From: European Cruise Guide
---
---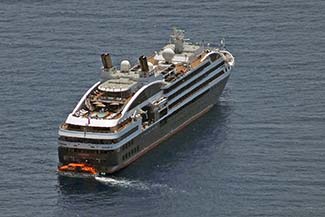 Compagnie du Ponant Yacht Cruises is a boutique cruise line owned by the world's third-largest container-shipping group. Although the Marseille-based company is relatively new to the English-speaking cruise market, it has served French cruisers since 1988, and its ships carry passengers to destinations around the world. (Today, about one-third of the company's guests are French, with the rest coming from other Continental countries, the UK, the United States, and elsewhere.)
In 2015, the Compagnie du Ponant fleet will consist of five ships:

Le Ponant is a three-masted motorsailer that accommodates 64 passengers in 32 staterooms, including three triple cabins and two with king-size beds. The large sun deck beneath the sails enhances the yachtlike ambiance.

Two new ships, Le Boréal and L'Austral, joined the fleet in 2010 and 2011 respectively. A third Boréal-class ship, Le Soleal, entered service in 2013, and another--Le Lyrial--is scheduled for delivery in 2015. Each megayacht accomodates 224 to 264 passengers in 132 cabins and suites, most with private balconies. Amenities include six decks, a theatre, two restaurants, a beauty center, and programs for children.
European destinations and itineraries: In a typical year, Compagnie du Ponant offers nearly 100 cruises of varying lengths along the coasts of Northern Europe, Greenland, the Mediterranean, and the Iberian Peninsula.
Pricing: As you might expect, Compagnie du Ponant is geared to upscale cruisers, with average per diems in the €300 to €500 range. ("Special offer" cruises are less expensive.)
Cruise line's Web site:
Compagnie du Ponant
(To switch countries or languages, use the links at the bottom of any page on the cruise line's Web site.)
Cruise review:
L'Austral Adriatic Cruise from Venice
---
---
"Best of the Web"
- Forbes and The Washington Post

Click or tap photos for cruise reviews:
---
Also see:

Venice for Cruisers
Getting to or from your ship, Venice hotels for cruisers, the Marittima and San Basilio piers, and more.

Rome for Cruisers
Trains to and from the port, plus a 35-page Civitavecchia city and port guide.
---
From Durant and Cheryl Imboden:

About Our Sites

Privacy and Cookies
---
Advertisement: