Hebridean Island Cruises
From: European Cruise Guide
---
---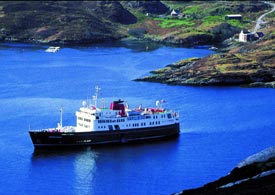 ABOVE: The Hebridean Princess.
Hebridean Island Cruises is a boutique cruise line with one one yachtlike vessel: the 49-passenger Hebridean Princess, a converted Caledonian MacBrayne ferry that cruises mostly in Scottish waters. The ship's itineraries are geared to wealthy British travelers and other English-speaking cruisers who enjoy a taste of Scotland at sea.
In 2017, Hebridean Princess is cruising from March to November, with itineraries of four to 10 nights. (Most cruises last seven nights.)
The company also has scheduled a series of river cruises on the Rhine, Main, and Danube aboard a chartered Dutch boat, Royal Crown, in 2016.
Cruise line's Web site:
---
---
Photo copyright © Hebridean Island Cruises.