Lindblad Expeditions
From: European Cruise Guide
---
---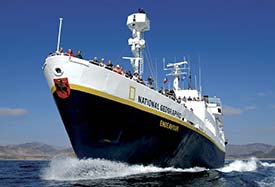 ABOVE: The National Geographic Enveavour, which features an ice-hardened hull. INSET BELOW: The Lord of the Glens in Scotland.

Lindblad Expeditions is probably best known for its "soft adventure" cruises to Antarctica, the Arctic, and other far-flung destinations, but the company also markets ocean and river cruises on chartered vessels in the British Isles, Continental Europe, and the Mediterranean. Many of its cruises are offered in partnership with National Geographic.
Lindblad cruises feature "expedition leaders," naturalists, and guest lecturers. With its leisurely itineraries and luxury-class fares, Lindblad Expeditions is well-suited to cruisers who enjoy group travel with an educational emphasis, and who have time and money to spare.
Cruise line's Web site:
---
---
Photos: Lindblad Expeditions.