Noble Caledonia
From: European Cruise Guide
---
---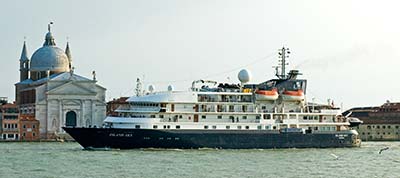 Noble Caledonia is primarily a tour operator and cruise-travel agency, but it does have four chartered oceangoing ships that it operates under its own brand:
Island Sky (formerly the Renaissance VIII), an intimate 4200-ton vessel that carries a maximum of 116 passengers. The ship underwent a major overhaul in 2010 and now offers such modern amenities as flat-panel TVs with DVD players and Wi-Fi Internet access in both cabins and public rooms.

Caledonian Sky (the former Renaissance VI and Hebridean Spirit), which was acquired in 2011 and is a sister ship to Island Sky.

Quest, which carries only 50 passengers and cruises in Scotland, Norway, Svalbard, and Greenland.

Variety Voyager, a new megayacht that will offer a small number of seven- to 12-night cruises in Europe during the spring of 2013.
In addition, Noble Caledonia has chartered two river vessels for 2013: Johann Strauss (which will cross Europe from the North Sea to the Black Sea in a series of cruises) and the smaller Rembrandt, which is cruising in Burgundy and Provence.
Cruise line's Web site:
Cruise video:
MS Island Sky in Venice, Italy
---
---