Princess Cruises
From: European Cruise Guide
---
---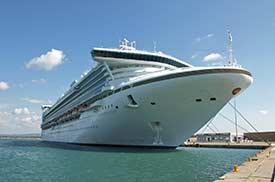 ABOVE: The Grand Princess in Katakolon, Greece. INSET: Hull painting, and a Princess sun logo.

Princess Cruises is a mid-priced American cruise line that will have five ships in Europe during its 2014 season. The newest vessel in the fleet is the 3,600-passenger Regal Princess, which will enter service in June. Other large ships in Europe are Royal Princess, Ruby Princess, and Emerald Princess. The line will also have one smaller ship on the European circuit: Ocean Princess, which is able to visit smaller "boutique ports."

The line's 2014 European cruise schedule features 94 departures on 48 itineraries to more than 120 ports in the Mediterranean, Northern Europe, and the British Isles. Maiden calls will include Alta (Norway), Salerno (Italy), and Jersey (Channel Islands).
Cruise line's Web site:
---
---