Photos
From: Garmisch-Partenkirchen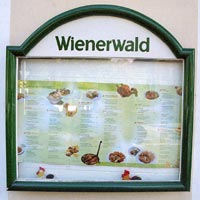 Wienerwald
The Austrian-based Wienerwald restaurant chain has offered its signature grilled chicken for decades. Although you can get other dishes at the Wienerwald branch on the Von-Brug Strasse in Garmisch, you won't go wrong with a Hendi (as a Hänchen is called in Viennese dialect).
It pains us to report that the Wienerwald in Garmisch-Partenkirchen has closed since this photo was taken, but others are located in Munich, a handful of smaller Bavarian cities, and a few other German cities such as Berlin, Stuttgart, Essen, and Cologne. To check the current location of Wienerwald restaurants in Germany, visit www.wienerwald.de.
---
---
---
"Best of the Web"
- Forbes and The Washington Post
---
Advertisement:
---

Need a hotel in Germany?
Booking.com offers guaranteed lowest available rates at more than 33,000 hotels, guesthouses, and hostels throughout Germany.

Search for hotels, or pick a city