Regensburg Photos
From: Regensburg, Germany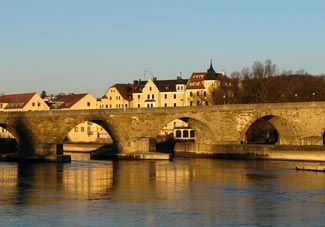 Danube River
The Steinerne Brücke, or Stone Bridge, glows in the late-afternoon sun.
The bridge was constructed from 1135 to 1146 to eliminate the need for erecting and repairing temporary wooden bridges. It has 15 arches and runs nearly 1/3 kilometer from the Altstadt to Stadtamhof (a district that was a Bavarian border town in the days when Regensburg was a Free Imperial City). At one time, the Steinerne Brücke was an important crossing point along the main trade route between Venice and Northern Europe.
---
---
---
"Best of the Web"
- Forbes and The Washington Post
---
Advertisement:
---

Need a hotel in Germany?
Booking.com offers guaranteed lowest available rates at more than 33,000 hotels, guesthouses, and hostels throughout Germany.

Search for hotels, or pick a city