Bern Airport:
Flughafen Bern-Belp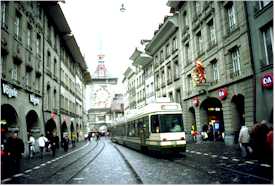 ABOVE: Bern and its Marktgasse are only a short ride from Flughafen Bern-Belp by bus or taxi.
Most air travelers to Switzerland enter the country via Zurich Airport or Geneva Airport, but the Swiss capital of Bern is another option worth investigating--especially if you're planning to spend most of your time in the Bernese Oberland.
Flughafen Bern-Belp is located a few kilometers outside the city, just west of the motorway that leads to Thun and the Oberland. The airport is no Haensli-come-lately to the Swiss aviation scene: It dates back to 1929, and it currently handles several hundred thousand passengers per year. Half a dozen airlines serve the airport, including Air France and a variety of small carriers. Air taxis and other general-aviation services also are available.
An inexpensive airport bus runs between the airport and Bern's main railroad station. During the ski season, a "Winter Bus" will take you to Interlaken-Lauterbrunnen or Grindelwald.
For more information on Flughafen Bern-Belp, including ground transportation, see:
Flughafen Bern-Belp
The Bern Airport's official Web site is in German, French, and English.
"Best of the Web"
- Forbes and The Washington Post
---
---

Need a car in Europe?
If you live outside the EU, a tax-free tourist car lease can be cheaper than renting for visits of 21+ days. Other benefits:
Minimum driver age is 18.
No upper age limit.
100% insurance coverage.
Wide range of cars, vans, and SUVs.
To compare vehicles and rates, see:

Renault

Peugeot
For car rentals under 21 days:

Auto Europe
---

Traveling by train?
Get free schedules, maps, and guides for 50+ European railroads. (Residents of North and Central America can buy tickets and rail passes online.)

Rail Europe