Jewish Travel: Switzerland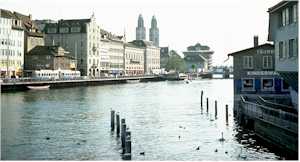 ABOVE: Zürich, Switzerland has a Jewish population of 7,000. Kosher businesses for tourists include a meat restaurant, a dairy restaurant, and a hotel that serves kosher breakfasts.
Switzerland is largely a Protestant and Catholic nation, with a Jewish population estimated at less than 20,000 or about 0.3% of the country's residents. The largest concentrations of Swiss Jews are in Zürich (7,000), Geneva (4,500), and (Basel (2,800). HaGalil's Judische Gemeinden page reports that some 2/3 of Switzerland's Jewish population lives in German-speaking areas.
Not surprisingly, kosher facilities for Orthodox and other tradition-minded Jewish travelers are in short supply. Still, it is possible to find kosher restaurants and food stores in Switzerland, and synagogues and mikvahs exist in places where you might not expect to find them--as you'll see when you click on the links below.
General information
Judaism in Switzerland
This page from isyours.com, a site maintained by Micheloud & Cie, offers a good overview of Swiss Jewish life and institutions with links to other resources.
Hotels, Restaurants, Museums, Publications,
Jewish Communities, and Schools