Vienna's Danube (Donau)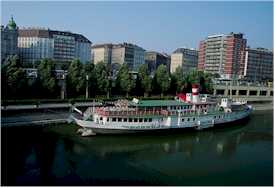 ABOVE: The Walzerschiff Johann Strauss offers dinner cruises with dancing on the Danube.
The Danube is one of Europe's most celebrated rivers. It's much loved by the Viennese, including composers who have honored their favorite Fluss with everything from waltzes to sentimental songs.
For a river that plays such a key role in Viennese tradition, the Danube (Donau in German) is a disappointment to many tourists. That's because the most visible part to inner-city visitors is the Donaukanal, an artificial channel or bypass that borders the old quarter of central Vienna. The river itself is farther away, beyond the 2nd District, where it's divided into two sections by the manmade Donauinsel or "Danube Island," which offers cycling, picknicking, and water recreation of every type. Just a little farther on is the nicely preserved Alte Donau, or "Old Danube," where you'll find old-fashioned swimming beaches and café-restaurants that offer boat rentals and (in winter) ice skating.
Other attractions along the Danube include the Donauturm (Danube Tower) with its 150m observation deck and the surrounding Donaupark, which is next to the United Nations UNO-City complex. The Prater amusement park with its world-famous Riesenrad (a giant Ferris wheel) is also between the Donaukanal and the main river.
You can take sightseeing cruises on the Danube, ranging from short tours to day trips to luxury cruises between Germany and the Black Sea. For more details on Danube cruising, see tour listings of river-cruising lines in our European Cruise Guide at Europe for Cruisers.
Next Page > Sights & Restaurants > Page 1, 2, 3
---
---