Gasometer-Town, Vienna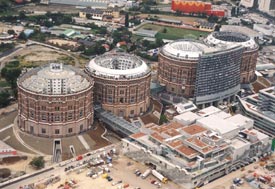 ABOVE: Aerial view of "G-town" during construction, showing the four converted gasometers. A glass bridge connects the historic structures to a new entertainment center.
---
Gasometers or gasholders--huge storage containers for the gas used in heating and cooking--were built in many cities during the late 19th and early 20th Centuries, when gas was a commercial byproduct of coal mining, steelmaking, and other industrial processes. Today, many of the old gasometers have been replaced by pipelines and tank farms, but a few are being adapted to new uses. Among the latter are four 102-year-old gasholders in the Vienna's Simmering district, which have been reborn as a residential and commercial development named "Gasometer-Town."
"G-town," as the locals call it, includes:
70 shops, restaurants, bars, cafes, and a vinotheque.
A multiplex cinema with 12 screens.
An events hall with room for 4,200 people.
A daycare center.
The Vienna National Archive.
11,000 square meters of office space.
615 apartments.
A 230-bed student dormitory.
Most of the new complex is built inside the old gasholders, which--unlike modern storage tanks--were designed to complement the cityscape with their brick walls, arched windows, and white plaster trim.
Next Page > History and rebirth - Page 2
Photos provided by by www.gasometer-wien.at. Copyright © Peter Korrak.