Zürich's Banhofstrasse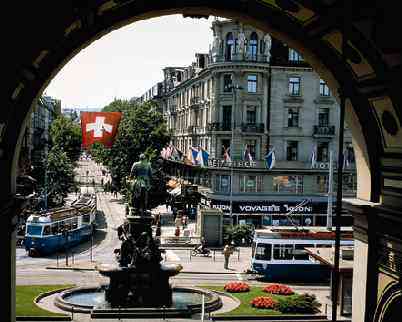 Switzerland's largest city is also one of the world's financial capitals, and the so-called "gnomes of Zürich" are a good deal wealthier than your garden-va pixie or leprechaun. So it shouldn't be surprising that the Swiss version of Fifth Avenue is home not only to many of Switzerland's finest stores, but also to some of its largest banks.
The Bahnhofstrasse begins at Zurich's Hauptbahnhof, or main railway station. Instead of trying to cross the Banhofplatz--which a veritable minefield of trams, especially at rush hour--take the station escalator downstairs to Shopville, an underground shopping mall, then return to ground level on the Banhnhofstrasse side of the square.
As you walk down the Bahnhofstrasse, you're bound to be impressed by the street's human scale. The buildings are mostly four and five stories high, and many have 19th Century façades. Trees line the sidewalks, electric trams glide quietly along the car-free traffic lanes, and--during warm weather--many of the storefronts are open to the street, creating the nearest thing to a Mediterranean atmosphere that you're likely to find in German-speaking Switzerland.
Shopping, Recreation, Web links