Italy for Venice Travelers
From: Venice Links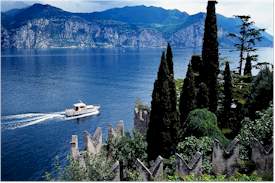 ABOVE: Lake Garda, near Verona.
Italian
Before you head for Italy, study the language with help from Michael San Filippo.
Italian Cuisine
Kyle Phillips may be a professional foodie, but his site has a travel section with information on Italian towns, wine tours, restaurants, etc.
Italiansrus.com
Anthony Parente's "Italians R Us" culture site has articles, links, recipes, proverbs, an Italian Surname collection, and more.
Foreign Languages for Travelers
Use the search windows to generate an online English-Italian phrasebook with recorded pronunciations. (I would have linked directly to the Italian page, but this site's URLs change so often that you might find yourself studying Icelandic or Afrikaans.)
---
---