ABOVE: On a Saturday in May, newly-arrived visitors waited patiently in line by the railroad station to take expensive vaporetto rides to their hotels. If they'd given more thought to location, they could have avoided the line and saved 15 euros each (€30 for a couple) on local transportation.
We hope you'll forgive the scary headline, and we don't want you to start your trip planning on a negative note, but we aren't kidding. We really do have a "No. 1 Venice Hotel Warning," and here it is:
Hotel location may not be critical in most cities, but in Venice--a city with 400+ footbridges and outrageously expensive public transportation--the wrong location can be frustrating and costly. That's why your hotel selection should be a two-step process:
---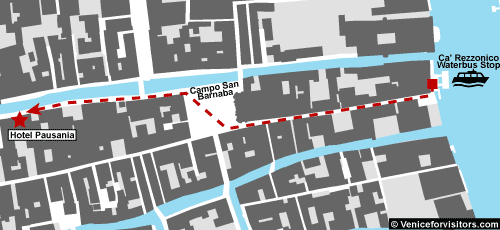 ABOVE: Our Venice Hotel Directions can help you find hotels that are near major transportation points such as Alilaguna airport-boat stops, the Santa Lucia Railroad Station, and the Piazzala Roma (used by taxis and airport buses).
---
Specific suggestions:
Here are two final--and important--pieces of advice:
For more detailed tips on where to stay, see the menu below. And while we'd obviously love it if you booked your hotel through the links in our hotel tools and articles, we hope you'll heed our No. 1 Hotel Warning even if you find a room by other means.
- Durant and Cheryl Imboden, Venice for Visitors