Europe > Cruises > Ocean cruises
Ocean Cruises in Europe
Articles Index
Also see: European Cruise Guide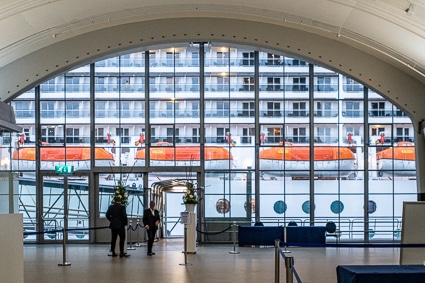 ABOVE: A passenger boards MSC Preziosa in the Rotterdam Cruise Terminal.
Ocean Cruise Reviews
MSC Preziosa: North Sea
Our seven-night cruise aboard one of MSC's newer megaships took us on a round trip from Rotterdam, with port calls in Hamburg, Le Havre, Southampton, and Zeebrugge. (The ship review includes a day-by-day photo diary.)
Norwegian Jade 14-day Mediterranean Cruise
Join us on a two-week roundtrip cruise from Venice, with five sea days and visits to Santorini, Kuşadasi, Piraeus, Civitavecchia, Livorno, Cannes, Valletta, and Messina. (The review includes 42-page day-by-day cruise photo diary with captions.)
L'Austral Adriatic Cruise from Venice
Read an in-depth review of aroundtrip cruise from Venice to Croatia aboard L'Austral, one of four sister ships from Compagnie du Ponant. (The review is accompanied by an illustrated cruise diary.)
Silversea Silver Spirit Cruise: Lisbon to Monte Carlo
Our 10-page illustrated review of a cruise aboard Silversea's 540-passenger luxury flagship will soon be joined by a day-by-day photo diary.
Costa Magica Western Mediterranean Cruise
Our newest in-depth cruise review is accompanied by hundreds of captioned photos about a roundtrip cruise from Rome to Naples, Palma de Mallorca, Valencia, Marseille, and Savona.
MSC Poesia Eastern Mediterranean Cruise
Our illustrated 10-page review describes a roundtrip cruise from Venice to Istanbul on an Italian megaship with five official languages and a thoroughly European atmosphere. It's accompanied by a 241-page photo gallery.
Holland America Line's ms Rotterdam
Read our 10-page cruise review, browse a 156-page photo gallery, learn about behind-the-scenes activities on a major cruise ship, and more.
MS Nordstjernen Spitsbergen Adventure Cruise
Arctic scenery, shore landings, and wildlife are among the attractions of a Hurtigruten expedition cruise on a 1950s-vintage Norwegian coastal steamer.
Wind Surf, Marseilles-Rome
Our in-depth review of the Windstar Cruises flagship includes illustrated port descriptions and captioned Wind Surf photos.
Oceania's Regatta
This "upper-premium" cruise line offers destination-oriented voyages in Northern Europe, the Mediterranean, and points in between. In our Regatta review, we describe a two-week cruise and nine ports of call from Dover to Barcelona aboard one of Oceania's three midsize ships.
Silver Whisper Mediterranean Cruise
Read an illustrated account of a 12-day voyage from Athens to Rome and view a Silver Whisper photo gallery with 61 pictures.
Silversea Cruises: "Scotland's Tattoo"
This sequel to our Mediterranean cruise article takes the Silver Whisper (and you) from Copenhagen to London Tilbury by way of Scotland, Northern Ireland, the Channel Islands, and Belgium. It includes 65 new Silversea pictures.
Articles
Tour Europe by Ship
Tired of daily unpacking, repacking, and grueling bus rides? Skip the tour and take a "port-intensive" cruise instead.
Hurtigruten
A fleet of modern cruise ferries provides daily service year-round to 34 ports from Bergen to Norway's northernmost reaches.
Hebridean Island Cruises
Sail along the coast of Scotland aboard Hebridean Princess, a small luxury ship that carries 50 guests and a crew of 389.
Gulet Cruises from Peter Sommer Travels
Peter Sommer, a British archaeologist, offers cultural cruises (some with walking tours) aboard wooden motorsailers in Turkey, Greece, and Italy.
Zeebrugge Cruise Terminal
The Port of Zeebrugge, near Bruges, now has a passenger-friendly cruise terminal. Our illustrated article shows what to expect during your visit.
Renaissance Cruises Bankruptcy: 10 Years Later
A passenger's account of what happened aboard the R7 on September 25, 2001.
Book review: Insight Cruise Guides
Or illustrated review covers Insight's Great River Cruises: Europe and the Nile and Mediterranean Cruises.