MiFi Mobile Hotspot
Is Cellular Abroad's pocket Wi-Fi practical for cruising?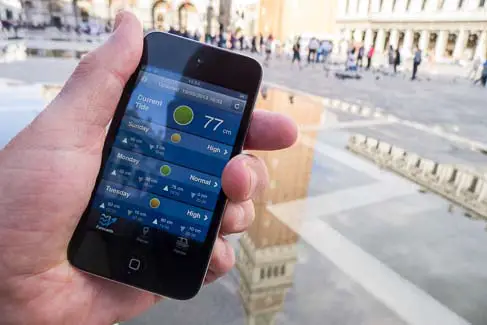 ABOVE: We used a MiFi mobile hotspot to check the Hi!Tide flooding forecast on our iPod Touch in Venice's Piazza San Marco after a six-night barge cruise. INSET BELOW: A close-up view of the MiFi hotspot.
---
On a port-intensive cruise, a mobile Wi-Fi hotspot can be cheaper and faster than your cruise ship's Internet connection. Just as important, it will let you browse the Web, view maps, or make Skype calls from your smartphone or tablet when you're away from the ship.
---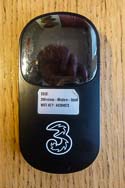 If you're like us, you crave Internet connectivity while you're cruising--either for personal reasons ("Are the kids okay?" "How's the dog doing?") or because your business requires keeping in touch. Unfortunately, data-roaming charges with a smartphone can be horrendous, and satellite connections on cruise ships tend to be slow and expensive.
Some cruisers circumvent such problems by purchasing prepaid data SIM cards or "Internet keys" locally, but that may not be as easy as it sounds if you're in a shop where the clerk doesn't speak English or you're traveling with a typical "locked" cell phone.
For us, the easiest solution has been to use a MiFi "mobile hotspot." In past years, we've tried two different brands: TEP, from the UK (which wouldn't connect with the local network) and Cellular Abroad, from the USA (the latter worked impeccably on a previous trip, which we described in a report at Venice for Visitors).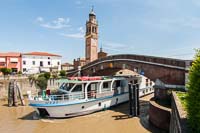 In May, 2013, we field-tested the Cellular Abroad MiFi for Italy once again during a six-night barge cruise on the Venetian Lagoon and Po Delta and 10 days in a Venice apartment that lacked an Internet connection. We used the MiFi with two devices: a laptop computer and an iPod Touch (which is roughly equivalent to an iPhone in Wi-Fi mode).
The MiFi mobile hotspot performed more reliably than the barge's own Internet connection when we were in remote areas, and when we were in cities or near shore, it consistently delivered enough speed to download e-mail, view Web pages, update our sites, watch the occasional video, and talk with our family back home via Skype. We were unable to connect to the Internet only once, when La Bella Vita was moored next to a lock in the countryside with no cell towers in the vicinity.
Just as important, the MiFi gave us greater flexibility when selecting an apartment for our post-cruise stay in Venice. We were able to choose an affordable one-bedroom flat without Wi-Fi in our preferred neighborhood, where most of the apartments with Internet connections were overpriced or already booked. (Our savings on the apartment were more than Cellular Abroad's MiFi rental rate.)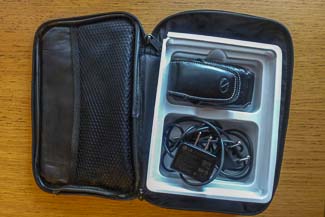 ABOVE: Cellular Abroad ships the MiFi in a zipper case with a power cord, plug adapter, and holster.
Using the MiFi mobile hotspot:
The MiFi is a Huawei mobile Wi-Fi device that has been set up to run on a European cellular data network. It's about the size of an old-style flip phone or a small TV remote. To use it, you simply turn on the power switch and let your devices search for the router. (The first time you connect from a laptop, phone, or other device, you'll need to enter your assigned password for security.) Your connection will be encrypted, making it safer than an open public Wi-Fi network.
Note: The MiFi supports up to five devices at a time, so you can be browsing the Web while your companions are talking on Skype, reading e-mail, or uploading photos.
The MiFi for Italy, which we used, connects to the TIM (Telecomm Italia) 3G network. Cellular Abroad claims speeds of up to 2.5 Mbps. Our own testing with Speedtest.net produced 3G download rates in the 1-1.5 Mbps range. (Cellular Abroad also has international and single-country MiFis for other countries that we haven't tested.)
Battery life is four to five hours, so if you're sightseeing all day with the MiFi in your pocket, it's a good idea to turn the device off when you aren't actually using it.
Renting MiFi from Cellular Abroad:
First, the bad news: Cellular Abroad caters exclusively to U.S. and Canadian travelers, so if you live elsewhere, you'll need to find a MiFi provider closer to home.
Now for the good news: If you do live in the U.S. or Canada, you can choose from a long menu of MiFi choices:
Multi-country: Cellular Abroad offers an International MiFi Hotspot with pay-as-you-go or unlimited data plans. Rates aren't cheap, but they're likely to be far less expensive than data roaming from your U.S. or Canadian cellular provider. (We've heard horror stories about American travelers who have run up four-, five-, or even six-figure roaming fees from companies like AT&T and T-Mobile during European trips.)
Single countries: Cellular Abroad has nearly three dozen individual country MiFi hotspots, with rates that vary by country. We can personally recommend the MiFi rental for Italy (reviewed here), which supplies unmetered high-speed bandwidth at rates that drop to only a few dollars per day for lengthy t
Is MiFi a good option for cruisers?
For cruising, a MiFi mobile hotspot is worth considering if you've booked a port-intensive itinerary that will let you connect to shore networks. Rates are likely to be cheaper than the ship's satellite Internet plan (unless you're online for only a few minutes per day), and you'll almost certainly enjoy a faster connection.
Another important point: With MiFi, you'll have access to the Web, e-mail, online maps, Skype, etc. with your smartphone or tablet while you're on shore.
Where to learn more:
For more information about Cellular Abroad's MiFi mobile hotspot or phone rentals, SIM cards, satellite phones, and other communications services for U.S. and Canadian travelers, visit www.cellularabroad.com.
---
Disclosure: Cellular Abroad lent us a MiFi for field testing, but we received no compensation for writing this article, and we have no financial relationship with Cellular Abroad.