Venice > Planning > Cellular Abroad MiFi
Cellular Abroad's MiFi
A mobile Wi-Fi hotspot for travelers from the U.S. and Canada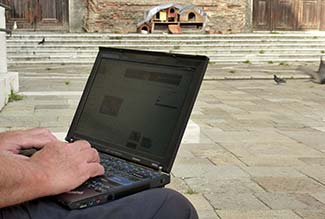 ABOVE: Durant Imboden uses Cellular Abroad's MiFi to browse the Web in Venice's Campo San Lorenzo, with pigeons and gatti from a Dingo cat shelter as an audience.
by Durant Imboden
Wireless Internet access has become a travel necessity in the 21st Century--not just for checking e-mail or browsing the Web, but also for making international phone calls via Skype and saving on exorbitant roaming fees.
The challenge for many travelers is where to find a Wi-Fi connection. Not all hotels have Wi-Fi, and those that do may charge an arm and a leg for access. Municipal networks can be useful (see our article on the Venice city Wi-Fi network), but coverage may be limited or unreliable.
Cafés and fast-food restaurants with free Wi-Fi are a great convenience, but you can't always find a McDonald's or a café with a hotspot when you need to check your e-mail, look at a Google Map, or confirm a museum's opening hours.
A better solution (at least for data-hungry travelers from the U.S. and Canada) is a MiFi international data hotspot rental from Cellular Abroad.
We tested a MiFi Italy mobile hotspot in Venice for two weeks during the summer of 2012, and it was a lifesaver--or, at any rate, a frustration-saver--when the Wi-Fi connection in our rented apartment was intolerably slow. Without the Mi-Fi device, we might have been forced to buy service from Venice's municipal Wi-fi network and do all of our Internet computing, Skype calls, etc. from a park bench regardless of the weather.
How it works:

Cellular Abroad's MiFi is a pocket-size Wi-Fi base station that connects to the Internet though one of Italy's leading cellular data networks. It works with up to five devices simultaneously.
To begin using the MiFi, you simply turn it on and let it connect to the cellular data network. Once the connection is established, you enter a "network key" or password. From then on, your electronic device should connect to the MiFi automatically whenever both are turned on.
And that's it. The MiFi works in the background, connecting to the Internet via one of Italy's largest 3G/HSDPA cellular data networks. You can check e-mail, browse the Web, upload or download files, edit Google Docs, make Skype calls, etc. just as you'd do with your Wi-Fi router or base station back home.
Bandwith and speed:
Your MiFi rental includes unlimited bandwidth for the length of your trip.
Cellular Abroad quotes a maximum "downspeed" of 2.5 Mbps and a maximum upspeed of 0.9 Mbps with 3G/HSDPA, which is available in most cities and major towns in Italy. Our tested speeds weren't that fast, but they were more than adequate for browsing, Web publishing, blog posting, and watching video clips.
Once you've used 10 Gb of data, your service drops to 2G speed (which is adequate for ordinary e-mail and Web use). In practice, I used the MiFi several hours a day for two weeks, and the 3G/HSDPA indicators on the MiFi never went off.
Battery life:
We averaged four to five hours between charges. (When we were in our apartment, we left the MiFi plugged in.)
Pros, cons, and other options:

Pro: The MiFi is reliable and easy to use. It's also easy to rent: Cellular Abroad will send you a package with the MiFi hotspot, a charger, and a plug adapter before your trip. The rental price includes a prepaid return shipping label.
Con: Renting a MiFi for Italy costs US $14.95 a day for rentals of two weeks or less, so it's expensive for short trips. However, the price per day drops considerably for longer rentals.
Alternatives: If the MiFi seems too expensive, you can try buying a prepaid data SIM card locally. Or--and this is likely to be easier--you can buy a prepaid, rechargeable data SIM card for multiple or individual countries from Cellular Abroad. (This requires having an unlocked smartphone that's compatible with European networks.)
Another possibility, if you're traveling to several countries, is to rent Cellular Abroad's international MiFi hotspot. This version of the MiFi works in more than 130 countries. It's cheaper to rent than a single-country MiFi, but you're required to pay for Internet access by the Megabyte, which can be prohibitively expensive if you do anything more than check your e-mail now and then.
For more information:
Visit www.cellularabroad.com, or go directly to Cellular Abroad's International Data Services page and click "MiFi Hotspots." On that page, you'll find options for multi-country MiFi rentals or individual country rentals (including the MiFi Italy version that I used in Venice for two weeks).
For European readers: A British company, Tep Wireless, offers its own mobile hotspot product for shipment to addresses in the UK and on the Continent. (Caveat: We couldn't get a network connection when we tested Tep's device in three Italian cities during July, 2011, and we never got a reply when we e-mailed Tep's support address.) Another firm that we haven't tried, Cellhire, also offers MiFi hotspots for various countries from the UK and elsewhere.