CroisiEurope
From: European Cruise Guide
---
---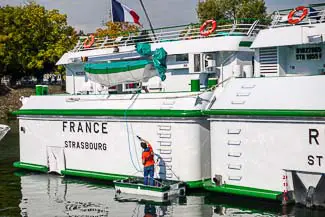 ABOVE: A sailor washes a CroisiEurope ship at the Port de Grenelle in Paris. INSET BELOW: La Belle de L'Adriatique moors behind MSC Poesia in Dubrovnik, and a cabin on La Belle de l'Adriatique.

CroisiEurope is a French cruise line that offers river voyages aboard more than 30 vessels in France, Spain, Portugal, the Low Countries, Germany, Italy, and Eastern Europe.
The company also operates coastal and maritime cruises in the Adriatic, the Mediterranean, and the Canary Islands with the 200-passenger M.S. Belle de l'Adriatique.

Most CroisiEurope passengers are French, but the firm markets actively to travelers of other nationalities, including Anglophones. Its cruises are worth investigating if you speak some French and are looking for a distinctly European cruise experience.
Cruise line's English-language Web sites:
---
---