European Cruise Guide 2020
More than 50 ocean- and river-cruise lines welcome English-speaking passengers in Europe. This guide has capsule descriptions of the cruise lines and their European itineraries, with links to their Web sites.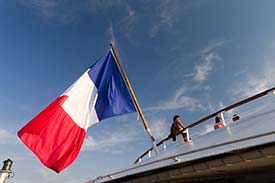 ABOVE: A French flag flies on the fantail of Compagnie du Ponant's L'Austral during a roundrip Adriatic cruise from Venice. INSET BELOW: Cruise manager Ramona Kurcsics of Uniworld, and Silversea's Silver Spirit in Port Mahon, Menorca.
---
---
May 16, 2020--Countries in Europe are beginning to emerge from lockdowns, but the status of this year's European cruise season (or what's left of it) is uncertain for any number of reasons.
It still isn't clear which countries will be open to international tourism in the coming months, reduced airline schedules will hamper access to arrival and departure ports, and a few cruise lines may go out of business (or be acquired by other cruise lines) before the world economy and the travel industry recover from the current crisis. And that's even without a "second wave" of local or regional epidemics that could create more havoc and suffering.
When browsing through this European Cruise Guide, use the cruise lines' links to get up-to-date information directly from the sources: the cruise lines themselves. And remember: The situation is very fluid, so what you see on a cruise line's Web site may be different from what you'll see a week, a month, or several months from now.
---
Cruising in Europe has become enormously popular in recent years, for several reasons:
It's an easy way to visit interesting places along Europe's coasts and waterways. Once you've boarded the ship and unpacked, your transportation, hotel, and dining needs are taken care of until the end of the cruise. (See our Tour Europe by Ship article for an introduction to "port-intensive" ocean and river cruising.)
Most expenses are built into the fare, so you know what you're paying up front. And when fares are quoted in your own currency, you're protected against fluctuating exchange rates.
Cruising is simply fun--especially for people who enjoy ships.

To help you plan a cruise in Europe, we've put together this European Cruise Guide with brief descriptions and Web links for ocean- and river-cruise lines that welcome English-speaking travelers.
Where possible, we've included links to our own cruise reviews, and you'll also find a page of links to other cruising sites.
To get started, see our cruise line index or use the menu below: