The Majestic Line
From: European Cruise Guide
---
---
ABOVE: The Majestic Line's four mini-ships rest at anchor in Scotland. INSET BELOW: Glen Massan (converted from a wooden fishing vessel) passes a Scottish castle, and a puffin puts in an appearance during a Majestic Lines cruise.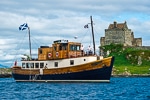 The Majestic Line is different from other cruise lines profiled in this guide: It has four tiny ships, carries a maximum of 11 or 12 passengers in half a dozen cabins, and cruises to small ports around the west coast of Scotland and the Hebrides.
Three-, six-, or 10-night cruises run weekly from spring through fall, departing from Scottish ports that can be reached by public transportion or private car.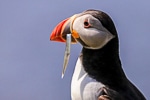 In 2020, Majestic is offering 16 distinct itineraries in six cruising areas. Private whole-boat charters are available for families and other small groups.
Cabins have double or twin beds, and two cabins on each cruise are available for single travelers without payment of a supplement. Fares include meals and wine.
If you'd like a saltwater cruise experience with the kind of intimacy that you might find on a barge or canal-boat cruise, The Majestic Line may be your cup of Scottish tea.
Cruise line's Web site:
---
---
Photos copyright © The Majestic Line.