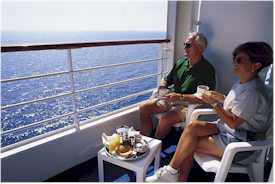 ABOVE: On the Regatta and the Insignia, 233 of the 340 cabins have private balconies.
Regatta and Insignia
Oceania's two ships, the Regatta and Insignia, were built by Chantiers de l'Atlantique of St. Nazaire, France in 1998. They sailed as the R1 and R2 of the late Renaissance Cruises until September, 2001.
After acquiring the ships in late 2002, Oceania budgeted several million dollars for new artwork, mattresses, linens, silverware, china, teak decking, redesigned swimming pools, and other improvements. The line wants to provide a "Ritz-Carlton" level of comfort and luxury at an average cost per person of about US $200 per day.
We sailed on the R7, a sister ship to the R1 and R2, on its final Renaissance cruise in September, 2001. The ship was a delight: big enough at 30,277 tons to offer a full range of restaurants, lounges, and bars, yet small enough to feel like a ship rather than a floating Las Vegas hotel.
Cabins and suites
Like the sister ship we were on, the Regatta (ex-R2) and Insignia (ex-R1) offer a generous range of passenger accommodations at "inaugural season" prices of US $2,090 to $6,750 for a 14-day cruise. The lowest-priced cabins are the 26 inside staterooms (158 sq. ft.), while the highest-priced accommodations are the six owner's suites (961 sq. ft.).
The most popular cabins are likely to be the Category A and B staterooms with private balconies, which represent 171 of the 340 cabins on each ship. All cabins are fitted with beds that can be set up as twins or queens; 132 third/fourth berths are available.
Restaurants and public rooms
The Regatta and Insignia have four restaurants: the Grand Dining Room, Toscana (Italian), Polo Grill (Black Angus steakhouse), and Tides Café. Each ship offers eight bars, a show lounge with dance floor, and an observation lounge.
Other public facilities include a pool, hot tubs, casino, spa, fitness center, jogging track, beauty salon, two shops, library, card room, self-service launderette, computers for Internet access, and a medical center.
Note: Oceania has a "country club casual" dress code, so you can leave your tuxedo, business suit, or evening gown at home.
Page 3 - Itineraries, Web links
---
---
---
Photo: Copyright © Renaissance Cruises. Used by permission.