Europe > Germany > Freiburg im Breisgau > Höllentalbahn
Höllentalbahn to the Black Forest
Spend a day in the Schwarzwald with the "Hell Valley Railway."

The historic city of Freiburg im Breisgau, in Germany's far southwest, is famous for its university, its Muenster or cathedral, and perhaps most of all for its position at the edge of the Schwarzwald, or Black Forest. Freiburg is situated at the western end of the Dreisam river valley, and the city's proximity to these rolling, tree-crowned mountains makes it a natural jumping-off point for all kinds of visitors.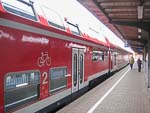 Whether your ideal day out involves snowboarding, hiking, or a Hefeweizen and a slice of world-famous Black Forest cake--or maybe all of the above--the best way in and out of the Black Forest is by train.
Departing from Freiburg's main station every half hour, the Höllentalbahn (which translates to "Hell Valley Railway") carries travelers up 2,000 feet on one of the steepest and most stunning railways in Germany. Peppered along the route are towns, trails, slopes, and no shortage of restaurants and inns.
With many Black Forest destinations just 30 minutes to an hour away on the Höllentalbahn, a Black Forest excursion can be just as easily accomplished in a day as in a weekend, depending on how much you hope to accomplish. And with beautiful scenery right out your window throughout the ride, your time spent in transit may turn out to be one of the highlights of the whole trip.
Sightseeing and destinations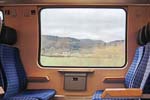 Before ascending into the mountains of the Black Forest, the Höllentalbahn travels east through the dramatic Dreisam river valley. In December, consider a visit to the Buchenbach Christmas Market, which is a pleasant 20- minute walk east of the train's Himmelreich stop along the Hauptstrasse.
But it is after Himmelreich that the Höllentalbahn begins to ascend into the forest, climbing along the northern face of the twisting valley. One of the most dramatic views comes on the 190 foot high stone-and-mortar Ravenna Bridge, which was completed in 1927, destroyed in World War II, and rebuilt by order of the French occupation forces in the years following the war.
Passengers soon arrive in two of the Black Forest's more popular resort towns. Hinterzarten offers many trails for hiking, bicycling, and cross-country skiing. Neighboring Titisee sits on a tree-lined See (see meaning lake or sea) complete with tour operators as well as small boats for rental. While Titisee is also well-known for its shopping and spas, visitors will find many traditional restaurants and hotels in both towns.
After Titisee, the Höllentalbahn splits. Riders on Neustadt-bound trains will continue just a few minutes further before reaching the end of the line. In Neustadt, they may switch to a diesel-powered train and continue east to Donaeuschingen on the eastern edge of the forest.
Trains destined for Seebrugg continue past Titisee, rising above the lake's eastern shore and offering views of the beautiful Bärental, or Bear Valley. Despite the name, skiers and snowboarders seem to be far more common than bears here; during the winter, buses waiting at the train's Feldberg-Bärental stop transport legions of fun-seekers up to the Feldberg mountaintop. At an elevation of almost 5,000 feet, this is the Black Forest's highest peak and a perennial favorite of tourists and locals alike.
Technically, trains that continue past Titisee to Seebrugg are part of the Dreiseenbahn, or Three Lakes Railway, named for the lakes of Titisee, Windgfällweiher, and Schluchsee, where the train terminates.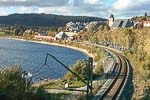 With a surface area four times larger than Titisee, Schluchsee is a popular destination in the summer, with plenty of opportunities for swimming, sailing, and fishing. Even in the winter, the beauty of the lake and village alike make for excellent walks along the area's many trails.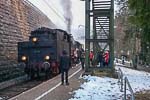 Visitors in July, August, and December have the opportunity to ride a historic steam train as well--an extension of a small railway museum at Seebrugg.
Timetables, tickets, and fares
Timetables are available via Deutsche Bahn, but generally speaking, trains depart from Freiburg's main station every half hour. Trains bound for Titisee-Neustadt and Seebrugg follow the same route until Titisee, after which they split. Up-to-date departure information is posted at the train station, and is always available via the trip planning tool at Deutsche Bahn's Web site (available in English and other languages).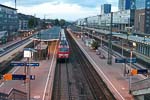 Tickets range in cost from 3.80 to 5.40 euros each way, depending on how far from Freiburg you choose to ride. For 11 euros, a REGIO24 pass is valid for one passenger plus up to four children under 14 years old. This pass (also available for 5 people for 21 euros) works on all public transit within the Freiburg region, including Freiburg's trams, buses, as well as regional trains like the Höllentalbahn.
 Travelers staying near Freiburg may wish to purchase a three-day WelcomeCard, which is oriented at tourists and includes all local transport as well as the Schauinsland cable car. Information on the WelcomeKarte is available in English.

Current ticket info is always available on the regional transit agency's website. Tickets cannot be purchased on board the train, so be sure to allow ample time to stop at the main ticket office or a ticket vending machine at the main station. (Riding without a ticket incurs a steep fine.)
Tourism and transportation links
Black Forest Tourism
The official English-language site of the Black Forest Tourism Board, complete with information on accommodation, activities, culture, events, and other areas of interest for visitors to the Schwarzwald.
3-Seen-Bahn
The "Three Lakes Railway" operates an historic steam train and a museum at the Seebrugg train station. Only available in German.
Deutsche Bahn
Includes a trip planning tool that will help you organize your visit to the Schwarzwald. (For English and other languages, use the selector in the site's top navigation bar.)
RVF (Regio-Verkehrsverbund Freiburg)
Regional transportation network with information on fares, passes, timetables, etc. Mostly in German.
VAG (Freiburger Verkehrs AG)
Public transportation authority for the city of Freiburg. Includes a trip planner and more detailed information on trams and buses operating within Freiburg. Mostly in German.
---
About the author:

Anders Imboden has written travel articles about Scotland, Ireland, Germany, and Spain.
He wrote this article while studying for a Master of Science in Environmental Governance degree at the Albert Ludwigs University of Freiburg.