This may be sacrilege to the culturati and guidebook writers, but you can enjoy Paris without seeing the Mona Lisa, and you can appreciate Florence without paying homage to Michelangelo's David. If you're pressed for time and cash, save the expensive museums and attractions for another trip. (You can still enjoy art and history, since public statues, architecture, and many churches are free.)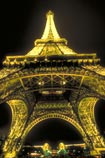 Look for ways to minimize expenses at higher-priced attractions. For example, by walking up to the first and second levels of the Eiffel Tower, you'll save money and avoid standing in line for the lifts. (Skip the top level unless you're feeling flush and have plenty of time to spare.)
Tours, such as those offered by our partner Viator, can add to the enjoyment of your trip. But if money is an issue (or even if it isn't), investigate cheap local tours that are sponsored by tourist offices. For example:
Madrid's tourist office has English-language themed walking tours from its office on the Plaza Mayor, with prices of only a few euros.
The Paris tourist office runs inexpensive "Meet the Parisians at Work" tours that let you visit such sites as bakeries, chocolate workshops, a violin-maker's studio, and clothing designers' ateliers. (While the tourist hordes are scrambling to catch a glimpse of the Mona Lisa, you'll be rolling croissants or learning how a milliner makes hats.)
Jeff Steiner of Americans in France has this tip about freebies and special deals that may not be in your guidebook:
"Ask around at the local tourist office in what ever city you are in. For example, a few months ago we visited Nimes and just happened to go and visit the amphitheatre. They had something on that day (a Saturday) and we, as did everyone else got in free."
Finally, just walking around can be the cheapest and most satisfying travel experience--especially in cities like Paris, Rome, Venice, or Stockholm that have beautiful scenery or monuments at every turn.
Top photo copyright © Matthew Taylor.