Europe > Germany > Munich > Vacation apartments
Munich Vacation Apartments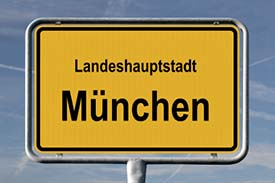 For visits of more than a few days, or when you're traveling with children, a holiday rental (such as an apartment, private room, or house) can be a cost-effective alternative to a hotel.
Benefits include:
A sense of belonging. You'll feel more like part of a neighborhood and less like a tourist who's passing through. You'll also have a good reason to visit supermarkets, bakeries, and other local shops.

More space (often at less cost). You'll especially appreciate having a home away from home when it's raining or you just feel like lounging around after a long day of sightseeing.
In Munich, you can choose from hundreds or even thousands of rentals. They tend to fall into three categories:
Privately-owned apartments (or, in a few cases, houses and cottages.)

Rooms, with or without private bathrooms.

Apartment hotels and serviced flats.
For detailed listings with photos and reviews by paying guests, please see our affiliate partners' sites:
Booking.com: Vacation Rentals in Munich our partner
Europe's no. 1 secure reservations site offers more than hotels: In Munich alone, it represents a large portfolio of vacation rentals. Booking.com is an especially good choice if you're looking for an apartment hotel or serviced apartment.

Airbnb: Munich our partner
The world's most popular holiday-rental platform offers hundreds of apartments and private rooms in Munich, with an emphasis on individual properties.
Tip: When comparing prices, be sure to compare the total cost, including any service or cleaning fees.
Photo: iStockphoto.com/Andreas Weber