Europe > Germany > Munich > Munich International Airport
Munich International Airport
Flughafen München (MUC)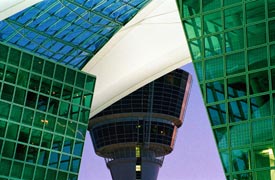 ABOVE: The MUC control tower, viewed from München Airport Center.
by Durant Imboden
If you're flying to Germany, there's a good chance that you're headed for Bavaria. And if that's the case, it makes sense to fly directly to Europe's eighth-largest airport: Munich International Airport, which lies in the heart of Germany's most popular tourist region.
Nearly 25 million people travel through Munich's airport every year, flying on some 90 major airlines and low-cost carriers that offer connections to 207 destinations in 60 countries.
Two parallel runways and a minimum connection time of only 35 minutes let passengers get in and out of the airport in a hurry--whether they're in transit, visiting Munich, or headed for the nearby Alps.
Munich International Airport also trumps its rivals in another area: services for passengers who have early departures or time to kill between flights. With a hotel, a shopping center, and a visitor park on the airport grounds, MUC provides more indoor and outdoor diversions than most airports do.
---
Location and layout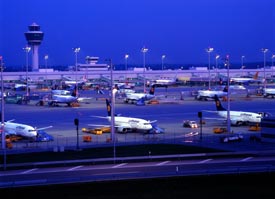 ABOVE: A nighttime view of Munich International Airport. Terminal 1 is in the background, in front of the control tower.
Munich's airport is 28 km (17.5 miles) northeast of the city, or 35-40 minutes from central Munich by train.
Terminal 1, which was built in 1992, is a long building that is divided into five contiguous "modules." Each module is a self-contained area with check-in counters, baggage claim, customs and immigration, and duty-free shops.
Hallways and moving sidewalks connect the modules to a central area with shops, restaurants, and ground transportation. Passengers can connect between airlines without having to take a shuttle bus or train.
Terminal 2 houses Star Alliance airlines (including Lufthansa and United), and it's just a short walk from Terminal 1.
Parking garages are adjacent to the terminal, and tunnels connect to the München Airport Center shopping mall and the Hilton Munich Airport hotel.
---
Reaching the city
Munich International Airport has many transportation options, ranging from public transit to private taxis.
For details, see our Munich International Airport Ground Transportation page.
---
Shops and services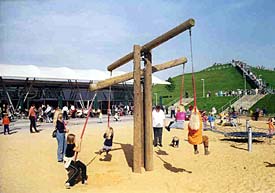 ABOVE: The Visitors Park at Munich International Airport is a short S-Bahn ride from the terminals. The hill in the background offers a view of the airport, and an 18-hole minigolf course is open from March to October.
Terminal 1 at Munich International Airport has the usual duty-free shops and snack bars, plus Global Refund desks for tax-free shopping rebates in modules A and B of the check-in area.
But the majority of shopping and eating opportunities are in München Airport Center, a mall that starts just beyond the main terminal. There, you'll find a supermarket, gourmet shops, bookstores, clothing boutiques, and other specialty retailers. München Airport Center also has eating places that range from the Airbräu microbrewery restaurant to a Burger King. You can even take a shower in the rest rooms. (Soap is available, but bring your own towel.)
The Service Center in München Airport Center is open 24 hours a day and is the place to go for baggage deposit, lost and found, and other travel-related services. A reasonably priced Internet Point is next door, or you can check your e-mail and surf the Web at the freestanding Internet terminals that are scattered (with pay phones) around the airport.
For last-minute deals on air tickets and tour packages, visit the many travel agencies and consolidators in München Airport Center's Reisemarkt.
Terminal 2 offers more shops and eating places near the gates in the secure transit area.
---
Munich International Airport Web links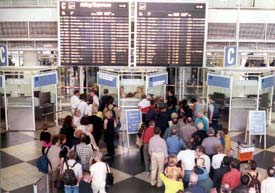 ABOVE: Inside Terminal 1 at Munich International Airport.
Airport
Munich Airport
The official Flughafen München Web site has all the basics, including details on the airlines that serve MUC.
München Airport Center germanyforvisitors.com
Eat, drink, shop, find travel bargains, get medical treatment, or drink a beer in Europe's largest covered open-air space without leaving Munich's airport.
Hilton Munich Airport
This ultramodern luxury hotel (designed by architect Helmut Jahn) is a short walk from the terminals and the München Airport Center shopping mall. See our illustrated review.
Novotel München Airport
The 257-room Novotel is geared to middle-class business and family travelers. All rooms are soundproofed, handicap rooms are available, and Wi-Fi is free.
Tourist information
Munich germanyforvisitors.com
Read our illustrated Munich Travel Guide, articles, listings of Munich hotels, and more. Also see our Munich Map.
Next page: Airport ground transportation
---
---
---