Peugeot "Buy Back" Car Leases
from Auto Europe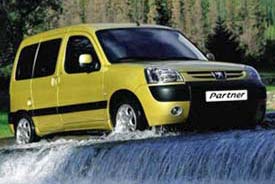 ABOVE: The Peugeot Partner is popular with families, couples, and students traveling together. It's one of many models in the Peugeot "Buy Back" leasing program.
If you live outside the European Union and plan to drive in Europe for 21 days or longer, the Peugeot Open Europe "Buy Back" Program can save you money over the cost of a rental. Benefits include:
A brand-new, factory-fresh Peugeot car.
No VAT, road taxes, or airport fees.
Unlimited mileage.
24-hour roadside assistance.
Minimum driver age is only 18, and there's no maximum age.
Citizens of EU countries who reside outside the EU may take advantage of this program.

Available Peugeot car models range from economy cars to luxury sedans and minivans.
For more information, see Auto Europe's Peugeot Open Europe "Buy Back" Program page and read our articles on: