Appenzell, Switzerland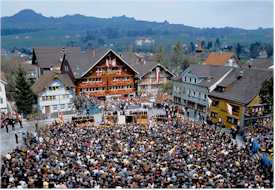 ABOVE: The annual Landgesmeinde in Appenzell.
By Durant Imboden
Appenzell is both a canton (actually two half-cantons) and a town of 5,000 in Eastern Switzerland, less than two hours from Zürich by train. The town, which we'll talk about in this article, lies amid green hills with just enough low-altitude alps to remind tourists that they're still in Switzerland.
As you might guess, the town of Appenzell is a cantonal capital--more accurately, the capital of Appenzell Innerrhoden, a Roman Catholic half-canton which lies within the arms of a Protestant neighbor called Appenzell Ausserrhoden. It's most famous for its annual Landesgemeinde, an open-air parliament where citizens vote directly on major issues instead of trusting elected officials to make decisions for them. (Only men were allowed to vote until 1991, when the Swiss Supreme Court ruled that excluding women was unconstitutional.)
Appenzell's respect for tradition goes beyond electoral issues. On special occasions, you'll see Appenzellers decked out in regional costume, and Appenzell has long been one of Switzerland's most active centers for yodeling, alphorn playing, and other expressions of Swiss musical tradition. The local houses are also distinctive, with their painted façades and attached barns. And for tourists who fancy primitive art (especially with bovine subjects), there's no greater attraction--and no better souvenir--than a traditional Appenzeller panoramic cow painting.
Next page: Appenzell sights and activities
Photo: Copyright © Aztech.