Basel, Switzerland
Basel Stadt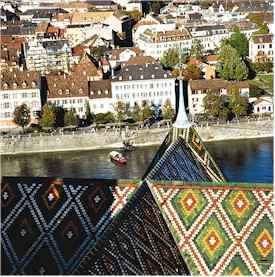 ABOVE: Basel and the Rhine, looking across the rear of the Münster (Cathedral).
By Durant Imboden
Basel may be Switzerland's least appreciated big city. It's quieter than Zürich, less international than Geneva, and farther from the Alps than Bern. Yet Basel is Switzerland's second-largest city, and its wealthy patrician families have nurtured a tradition of scholarship and art since the Renaissance. The fact that Basel has more than two dozen museums for a population of 200,000 makes it clear that this is no ordinary provincial town.
Basel's location is also unique. The city lies just inside Switzerland's borders with France and Germany. In fact, its EuroAirport is on French soil and is shared with Mulhouse, France and the German city of Freiburg im Breisgau.
Basel is the terminus for Rhine River cruises from Holland and Germany, and it's a major Swiss railroad gateway for trains from Paris, Brussels, Frankfurt, and other European cities.
Ease of access is just one reason why you should consider spending a night or two (or even three) in Basel while visiting Switzerland. The city itself is well worth a day's exploration, thanks to an attractive old town with fine buildings like the Münster (Cathedral), the painstakingly renovated City Hall, the Barfüsserkirche (now the Historical Museum), and the Spalentor that once served as a defensive gateway to Alsace. Allow time to walk along the Rhine, and visit at least some of the excellent museums listed in this article.
Finally, don't miss the Augusta Raurica in Augst, just 12 km (7.5 miles) from the city center. This Roman town was home to 20,000 people before being destroyed by Alemannic raiders nearly 1,800 years ago. Excavations and Roman treasure are on display, along with a full-size reconstruction of a Roman house and a "Roman farm" animal park.
---
Tourist information: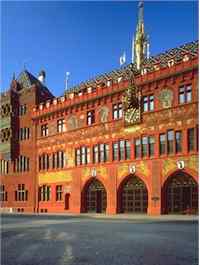 Basel Tourism
The city's official tourism site has information in English, German, and several other languages.
Kanton Basel-Stadt
Tourism, transportation, culture, and business are some of the topics covered by the city's official (and multilingual) Web site.
---
Transportation:
BVB (Basel on the Move)
The tram and bus network's pages are available in German, English, and French.
EuroAirport
The Basel-Mulhouse-Freiburg regional airport is in France, 12 km (7.5 miles) from downtown Basel.
Fähri-Verein Basel
You can cross the Rhine at four places. See "Die 4 Fähren" for schedules and prices in German.
Basler Personenschifffahrt
Cruise through the locks to Rheinfelden, or enjoy a city around the city with lunch.
---
Hotels:
Booking.com: Basel our partner
Our hotel partner is Europe's no. 1 secure reservations site. Its detailed listings include photos and reviews by paying guests.
---
R
estaurants:
Basel-Restaurants.ch
Search for eating and drinking establishments throughout the city and its suburbs. (You can search by location, type of cuisine, "kids welcome," and other criteria.)
TOPAS Jewish Kosher Restaurant
The restaurant is located near the synagogue, and it's open for lunch and dinner from Sunday through Friday noon. If you plan to dine on the Sabbath, you'll need to reserve and pay in advance before 2 p.m. Friday. (Click "Englisch" in the top navigation menu if you don't read German.)
---
Museums, monuments:
Antiquities Museum and Ludwig Collection
Egyptian, Greek, Etruscan, and Roman artworks are the house specialties. (German and French(.
Augusta Raurica
Some 20,000 people lived in this Roman town 1,800 years ago. Today's open-air museum complex has ruins, a reconstruction of a Roman house, and a "Roman farm" animal park. In summer, you can get there by boat.
Basel Historical Museum
The city's history since Celtic times is chronicled in the Barfüsserkirche, a restored Franciscan church from the 1300s. Other museum branches are also listed here. (German and French.)
Kunstmuseum Basel
The Kunstmuseum Web site covers two museums: the Basel Art Museum and the Museum of Contemporary Art.
Museum of Cultures
Basel's ethnological museum displays objects from around the world, with an emphasis on the Americas, the Pacific, and rural Europe.
Museum Tinguely
This museum opened in 1996. It celebrates the work of Jean Tinguely, a Swiss artist whose career spanned three and a half decades before his death in 1991.
Natural History Museum
Minerals, dinosaurs, birds, and beetles are among the specimens in this internationally respected museum. (German.)
Spielzeug Welten Museum - Toy World Museum
Dolls, dollhouses, teddy bears, toy carousels, etc. occupy four floors of exhibition space in central Basel.
Vitra Design Museum
This ultramodern, international museum of furniture and interior design is located across the German border in Weil am Rhein. Take the A5 motorway or the No. 5 bus from the Badischer Bahnhof (railway station) in Basel.
Zoo Basel
The Basel Zoological Garden ("Zolli Basel" in dialect) is a 5- to 10-minute walk from the center of town or the railroad station. Animals range from apes to zebras.
---
Sports:
Basler Ruder-Club
The local rowing club has two boathouses, some 400 members, and more than a hundred years of history. (German.)
---
Entertainment:
Mybasel.ch: Kino
Movie schedules and theatre locations are from a local German-language site.
Blues Priority
Even in prosperous Basel, people sing the blues.
Radio Basilisk
Click the player button on the home page to hear this station online. (German.)
---
Events:
ArtBasel
The city's International Art Fair takes place in June.
Fasnacht (Carnival In Basel)
Basel's annual Fasnacht, or Carnival, is a Swiss version of Mardi Gras. Highlights include Guggenmusik bands, open-air skits, a children's parade, and uninhibited carousing.