Basel, Switzerland
Basel Stadt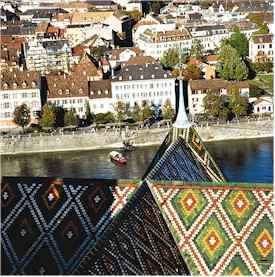 ABOVE: Basel and the Rhine, looking across the rear of the Münster (Cathedral).
By Durant Imboden
Basel may be Switzerland's least appreciated big city. It's quieter than Zürich, less international than Geneva, and farther from the Alps than Bern. Yet Basel is Switzerland's second-largest city, and its wealthy patrician families have nurtured a tradition of scholarship and art since the Renaissance. The fact that Basel has more than two dozen museums for a population of 200,000 makes it clear that this is no ordinary provincial town.
Basel's location is also unique. The city lies just inside Switzerland's borders with France and Germany. In fact, its EuroAirport is on French soil and is shared with Mulhouse, France and the German city of Freiburg im Breisgau. Basel is the terminus for Rhine River cruises from Holland and Germany, and it's a major Swiss railroad gateway for trains from Paris, Brussels, Frankfurt, and other European cities.
Ease of access is just one reason why you should consider spending a night or two (or even three) in Basel while visiting Switzerland. The city itself is well worth a day's exploration, thanks to an attractive old town with fine buildings like the Münster (Cathedral), the painstakingly renovated City Hall, the Barfüsserkirche (now the Historical Museum), and the Spalentor that once served as a defensive gateway to Alsace. Allow time to walk along the Rhine, and visit at least some of the excellent museums listed on page 4.
Finally, don't miss the Augusta Raurica in Augst, just 12 km (7.5 miles) from the city center. This Roman town was home to 20,000 people before being destroyed by Alemannic raiders nearly 1,800 years ago. Excavations and Roman treasure are on display, along with a full-size reconstruction of a Roman house and a "Roman farm" animal park.
More about Basel
In the following pages, you'll find links to tourism sites, transportation infomation, hotels, museums, and more.