Europe > Switzerland > Bern > Cathedral
Bern's Münster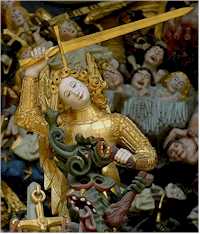 ABOVE: Statues from the tympanum above the main door of the Münster in Bern.
Just as Rome wasn't built in a day, Europe's great churches weren't constructed overnight. The Münster of St. Vincent in Bern is a good example: it was begun in 1421, but the main body of the church wasn't finished until 1573 and the tower was added more than three centuries later (in 1893, to be precise). During the time of its construction, the Reformation took place and what began as a Catholic cathedral ended up as a Protestant minster or collegiate church.
The Münster is well worth a visit for several reasons:
It's blessed with some of the finest stone and wood carvings that you'll see in Switzerland, including the 234 statues of The Last Judgment above the main portal (see detail above).
Its bell tower, the highest in Switzerland, offers a panorama of Bern to tourists who have the stamina to climb the steps leading to the two viewing platforms: one at 46 meters (150 feet) and the other at 64 meters (210 feet).
The chancel's stained-glass windows date back to the 15th Century and are lovely to behold, especially on a sunny day.
How to reach the Münster
The Münster is on the Münsterplatz in Bern's medieval center. From the railroad station, head toward the arcaded streets of central Bern and keep your eyes open.
While you're at the Münster, take a few minutes to enjoy the view of the River Aare from the platform in front of the church.
Related Web link:
Berner Münster
The cathedral's English-language Web site has information on topics such as visiting hours, tours, the church's architecture, organs, and even how to arrange a private happy hour in the cathedral tower.
---
---