Bicycling in Switzerland
Page 2
Continued from page 1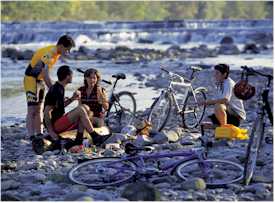 ABOVE: Bicyclists take a break by the River Thur in Canton Thurgau, Switzerland.
Web links
General information
SBB: Your bike to rent at the station
The Swiss Federal Railways has information on bike rentals at train stations, train/bicycle tour offers, and more.
Rent a Bike
Hire bicycles at rental points through Switzerland.
Zürirollt: Free Bike Rental in Zürich
Borrow an adult or children's bicycle free of charge, just by showing your ID and paying a deposit. (If you need help on the hills, you can rent an electric bike for a reasonable fee.)
SwitzerlandMobility - Cycling in Switzerland
If you don't find the information you need on this multilingual site, you can order guides and maps online.
Over the Alps on a Bike With a Boost
Tim Neville wrote this article about electric biking in Switzerland for The New York Times and International Herald Tribune.
Tour organizers
The following links represent only two of the many companies that offer escorted or unescorted bike tours in Switzerland. (You can find more tour outfitters via Web search or by searching on "bike tours" at the Switzerland Tourism Web site, MySwitzerland.com.
Back to: Bicycling in Switzerland - Inroduction
---
---
Photo © Switzerland Tourism.